All Posts Tagged With: "Lash Bar"
I love Halloween because I can get out all my crazy, funky, and over the top makeup and wear it without thinking twice! My favorite way to dress up for Halloween is make my lashes very long and theatrical with beautiful false lashes by shu uemura the Tokyo Lash Bar Collection.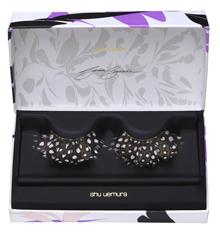 Marta's loves: Fleur-Ever (premium edition) by Gina Brooke, artistic director for shu uemura. $79 (Image above. Bit pricey, but hey it's Halloween and we live once!) Inspired by a flower's ability to lift spirits and engender energy. This lash's design emulates the tail of a bird whose exotic purple plumage is accented with white flecking. Petal-like forms hide inside the lashes, bringing to mind a bouquet of sweet peonies.