All Posts Tagged With: "Halloween Makeup"
Sometimes I don't feel like going all out with a complete Halloween costume, and instead I just use one or two beauty products for a "costume" that hints that it's Halloween. Here are my picks for the top Halloween beauty products from fake nails, fake eye lashes, and even how to remove all these special occasion makeup with products from Simple Skincare.
Black Nails: I like NARS Andy Warhol Back Room Nail Polish. It's a black polish perfect for the darker and colder days. It's a very mysterious polish just like Halloween… a bit edgy, yet elegant.
ARTIST'S NAME: Luc B., MAC Senior Artist
LOCATION: New York City
STARTED 1984
ODD HABITS: Humming while doing makeup.
FUN FACTS: If there is a dog in the room, I ignore people in favour of the dog!
Q: What's so special about Halloween?
A: Halloween is exhilarating makeup time! It's the time of year when you can let all your alter egos come out! Whether your thing is drag, scary monsters or celebrity impersonations, just have fun!
Q: What are you planning to be for Halloween?
A: I don't dress up! I just love watching all the action in the streets. I live in the East Village in New York, and the fun part is just watching everybody come out and play. Even if sometimes it's hard to tell if it's a Halloween look or just a colourful neighbour.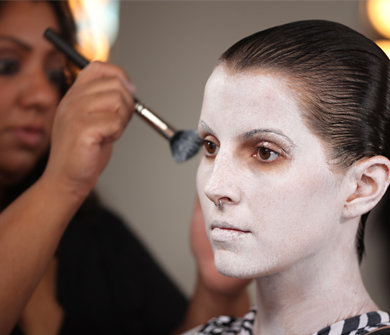 From villainous vamps to dolled-up demons, M∙A∙C Senior Artists Bianca Alexander, Luc Bouchard, Keri Blair, Sandy Joseph and Chantel Miller revel in the ghouls – and glamour – of Halloween
Q: What are the products you most often use during Halloween?
A: I would say I love MAC Studio Finish SPF 35 Concealer as a base. That way, you basically have a blank canvas and you can create anything you want. Also, all the MAC Pro Lipmix colours are great if you want very rich, creamy colours that will make a statement. Prep + Prime finishing powder can set anything into place and make it last all night.
I love Halloween because I can get out all my crazy, funky, and over the top makeup and wear it without thinking twice! My favorite way to dress up for Halloween is make my lashes very long and theatrical with beautiful false lashes by shu uemura the Tokyo Lash Bar Collection.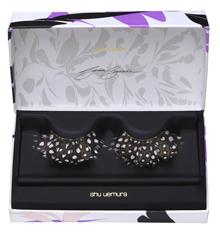 Marta's loves: Fleur-Ever (premium edition) by Gina Brooke, artistic director for shu uemura. $79 (Image above. Bit pricey, but hey it's Halloween and we live once!) Inspired by a flower's ability to lift spirits and engender energy. This lash's design emulates the tail of a bird whose exotic purple plumage is accented with white flecking. Petal-like forms hide inside the lashes, bringing to mind a bouquet of sweet peonies.
TotalBeauty.com content:
Recreate this Tinker Bell-friendly look and win "prettiest costume" this year
Who doesn't want to go crazy with glitter on Halloween — it's really the only time you can get away with it. Transform yourself into a glittery fairy with these step-by-step instructions courtesy of Gregory Arlt, Director of Makeup Artistry for MAC cosmetics. Pair this girly makeup look with a set of wings and soft curls to complete the look.
TotalBeauty.com content:
Recreate this dramatic, sexy mask in minutes — it's the perfect last-minute costume
Instead of reaching for some awful costume-in-a-bag because you put off deciding what to be this Halloween, quickly transform your look by creating this painted on bat-shaped, glittery mask. Follow these step-by-step instructions courtesy of Genoa Norris, Resident Trainer at MAC Cosmetics and you'll have a costume in no time. Pair this mask with all black clothes and a sleek ponytail for a complete (and super simple!) look.