All Posts Tagged With: "Laurel True."
St. Ives Sensory Spa & Gallery Hosts the Premiere of "Motherhood" at 2009 Sundance Film Festival.
Vibrant, natural beauty and talent fused as Hollywood's elite gathered at the St. Ives Sensory Spa & Gallery to celebrate the premiere of Academy Award-nominated Uma Thurman's latest venture, Motherhood from acclaimed director Katherine Dieckmann. Dieckmann, Thurman and co-stars Minnie Driver and Anthony Edwards were all in attendance. Minnie Driver also treated VIP guests to an exclusive musical performance.
The event wrapped up the five day Spa & Gallery, featuring star spa treatments with St. Ives' popular skincare line and an exclusive exhibition of nature-inspired Mosaic art by world-renowned artist Laurel True.
Actress/singer Minnie Driver treats VIP guests to an exclusive performance at the St. Ives Spa & Gallery at Sundance, for the premiere of her new comedy "Motherhood".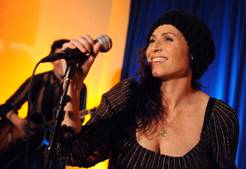 Actress Jodie Foster attends the "Motherhood" premiere after party at St. Ives Spa and Gallery.