All Posts Tagged With: "mineral mud"
During the cold, winter months, skin is exposed to 75% less humidity leaving it dry, itchy and raw. This winter, the secret to escaping these irritating aliments lies deep within the banks of the Dead Sea. AHAVA's Dead Sea Mineral Mud is a rich, nutritious body treatment that instantly invigorates dull, dry skin to reveal a radiant, healthy glow.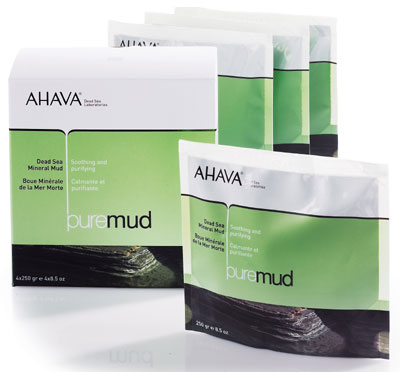 Combat winter woes with a powerful dose of these highly concentrated minerals for a nourished and youthful appearance. AHAVA's Dead Sea Mineral Mud works deep down to clean, purify and restore the skin's natural moisture balance, leaving it smooth and revitalized. Harvested from the lowest elevation on Earth, this rejuvenating mud contains life-enhancing ingredients with proven regenerative properties for guaranteed gorgeous skin.
Why not start the new year right with clear skin this time? After heavy partying, food and drinks, you could use a new regimen to help whip your skin back into shape!
Kairos Acne Clear Solutions Oil Reducing Pore Perfecting Treatment, $28: This potent blend of natural oils and 1.0% Salicylic Acid is designed to gently exfoliate, minimize excess oil, curb bacteria, and penetrate pores to control and help prevent acne. The treatment keeps hair cleaner longer as it clears breakouts, eliminating the "greasy look" on both hair and skin. Just use the treatment twice a week after shampooing, using the special tip applicator to apply to the scalp in sections. Leave on 3-5 minutes before rinsing and conditioning. The treatment can even be used directly on active acne areas on the face and body to treat and prevent breakouts. www.kairosclear.com