All Posts Tagged With: "Skyy Hadley"
As much as we all love summer, the constant flip flop and sandal-wearing can be rough on the heels – literally. Skyy Hadley of As "U" Wish Nail Spa has the perfect solution: a Meals for the Heels Mask.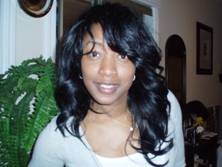 Take one cup of regular oatmeal and 1/2 cup of regular milk and heat up over the stove, stir until cooked. Add sugar to thicken the mixture, and then let it cool off a bit. When the mix is thickened, apply to your feet. Leave the mask on for about 5 – 10 minutes. The oatmeal soothes dry, itchy or irritated skin, while the milk acts as an exfoliant to help get rid of dry and dead skin cells. Finish off with pure shea butter as a moisturizer and you're all set.
Winter weather inspires us to moisturize our bodies to ward off dry skin but two important extremities often get overlooked: Hands and feet need special care during cold months, too. Skyy Hadley, owner of As "U" Wish Nail Spa, makes sure no finger or toe goes unmoisturized.

Skyy Hadley.
To ensure you receive proper care for your hands and feet, step into As "U" Nail Spa in Hoboken, New Jersey, a warm environment where your mind and body can defrost from the harsh weather.  
1. Spa Manicures at As U Wish have a very unique feature. Rather than soaking hands in water, which can actually dehydrate the skin, Skyy softens and moisturizes them by encasing them in a bag of warm silky cream, in a variety of delicious scents.
Get the lashes of your dreams – with no mascara or lash curler necessary. Who do celebrities turn to when they want stunning, seductive lashes? Renowned beauty expert Skyy Hadley, a master in the art of Xtreme Lashes.

Skyy Hadley.
"Long, luscious lashes will instantly make any woman look sexier and more beautiful," says Skyy Hadley, owner of the As "U" Wish Nail Spa in Hoboken, New Jersey. "They instantly open up the eyes, make you look healthier and rested and, in most cases, younger. My celebrity clients love Xtreme Lashes because they look stunning 24/7. Plus, you never have to apply mascara or use a lash curler."
Xtreme Lashes are the gold standard of false lashes. Made of a lightweight, high-end silk and polyester blend that look and feel just like your own lashes, they are completely undetectable. During one to two-hour session, Skyy typically applies 80 or so lashes – one at a time – using a safe, non-irritating super-strength glue similar to the bonding agent used by plastic surgeons for wound closure. The process is completely painless and lasts up to two months. Touchups are needed every three weeks.