Heidi Klum reveals how you can achieve her red carpet beauty secrets for under $50!
Supermodel Heidi Klum and celebrity make-up artist Linda Hay, launched Victoria's Secret Makeup Spring Look Kit and demonstrate how to get Heidi's red carpet Oscar look for under $50.
Additionally, for this year's Oscars, Heidi is wearing a red dress by Roland Mouret for Diet Coke's Heart Truth campaign and has also designed the Best Actress Nominees gift for Victoria's Secret. The gift includes a Vintage Victoria lingerie set with a diamond and pearl pin.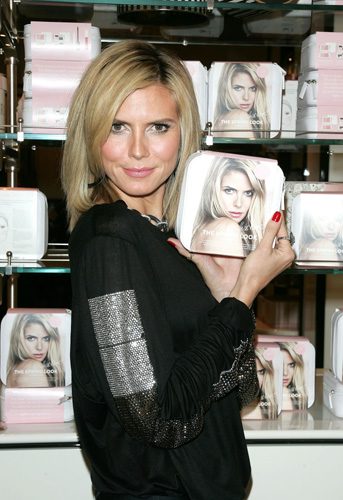 This year, red carpet beauty is all about soft romance and classic Hollywood glamour. Supermodel Heidi Klum and celebrity make-up artist, Linda Hay, provided an insider's look at Heidi's red carpet look for the 2009 Academy Awards. To achieve Heidi's subtle, yet elegant look, Hay uses a flirty, pink palate finished with chocolates and nudes for a soft, smoky effect. Now for the first time, anyone can achieve Heidi's look with simple step-by-step instructions and only five products, all featured in the Victoria's Secret Makeup Spring Look kit.
The set includes: Highlighter/Blush Duo in Fresh. Eye Shadow Quad in Devoted, Primal, Rich and Champagne. High-definition Mascara in Blackest Black. Lip Gloss in Blush.
Heidi Klum's Spring Look kit is available exclusively at Victoria's Secret stores for only $49.
Monday, February 16, 2009 at Victoria's Secret Lexington Avenue Store at 58th Street.
In addition, Victoria's Secret and Heidi Klum design a very sexy gift set for the best actress nominees: Hollywood's leading ladies, the 2009 Best Actress Nominees, will receive good luck gifts from Victoria's Secret – The special Vintage Victoria Lingerie adorned with a diamond and pearl pin designed by Supermodel Heidi Klum.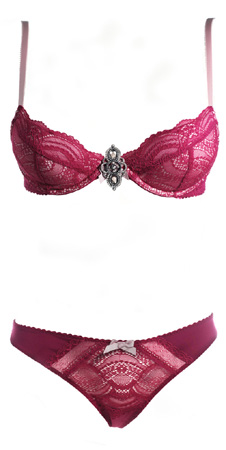 For the 81st annual Academy Awards, Victoria's Secret partners with Supermodel Heidi Klum to design the Vintage Victoria Gift Set exclusively for the Best Actress Nominees. The gift includes a Victoria's Secret Vintage Victoria Push-up Bra in Wineberry and Blush Pink embellished with a diamond and pearl pin as the centerpiece. A matching thong completes the look.
Klum designed the fine jewelry piece attached to the center of the new Vintage Victoria Push-up Bra especially for this year's nominees. The broach, which can also be worn as a hair pin, reflects the Hollywood glamour and sophistication that the leading ladies of Hollywood have long portrayed. The piece consists of pear-shape diamonds, black pearls and rare rose-cut grey diamonds set in 18K white gold with black rhodium.
Victoria's Secret's sexiest new bra, the Vintage Victoria Push-up is made with smooth satin or all-over lace making it luxurious and ultra-feminine. It is perfect for a special occasion, such as the Oscars! It is a beautiful take on the classic push-up in soft, romantic colors like Shady Blush, Deep Wineberry and Parlour Rose.
The beautiful Vintage Victoria Lingerie Gift Set by Heidi Klum will be presented to the Best Actress nominees the week before Oscars and has a retail value of $6,000.