All Posts Tagged With: "Linda Hay"
Supermodel and TV personality Heidi Klum wore Victoria's Secret Make-up for the 81st Annual Academy Awards. Celebrity make-up artist Linda Hay creates a fresh, modern look for Heidi Klum.
The inspiration behind Heidi Klum's Oscar beauty look began with her Roland Mouret gown. The graphic silhouette and bold red color of the dress required a softer, natural face to compliment the design rather than compete with it.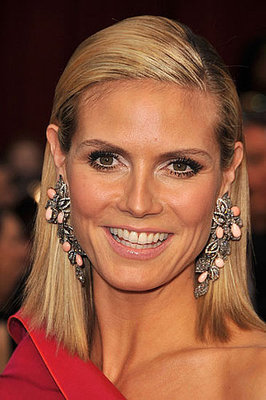 Heidi Klum.
Make-up artist Linda Hay wanted to bring out on Heidi's dramatic eyes and also incorporate the powder pink color of the coral and diamond Lorraine Schwartz jewelry on the lips and cheeks. Linda sought to create a look that was light and dewy while still modern and sexy.
Supermodel and TV personality Heidi Klum attended the 81st Annual Academy Awards at the Kodak Theatre in Los Angeles, as part of Diet Coke's Heart Truth campaign to raise awareness of women's heart health, the number one killer of women in the United States. Heidi designed a Red Dress Charm of diamonds and rubies that is available to win at DietCoke.com.
Credits:
Dress: Designed by Roland Mouret
Clutch: Christian Louboutin
Shoes: Christian Louboutin
Hair: Serge Normant
Make-Up: Linda Hay for Victoria's Secret Beauty
Jewelry: Lorraine Schwartz
Heidi Klum reveals how you can achieve her red carpet beauty secrets for under $50!
Supermodel Heidi Klum and celebrity make-up artist Linda Hay, launched Victoria's Secret Makeup Spring Look Kit and demonstrate how to get Heidi's red carpet Oscar look for under $50.
Additionally, for this year's Oscars, Heidi is wearing a red dress by Roland Mouret for Diet Coke's Heart Truth campaign and has also designed the Best Actress Nominees gift for Victoria's Secret. The gift includes a Vintage Victoria lingerie set with a diamond and pearl pin.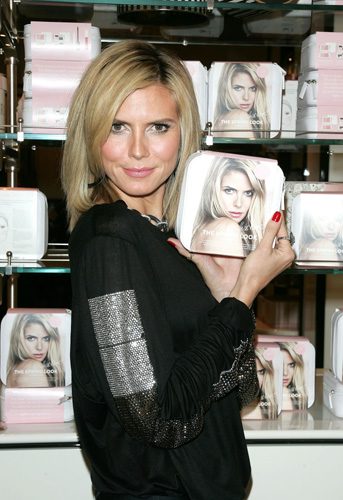 America Ferrera's Look By Linda Hay The 15th Annual SAG Awards.
This year at the 15th Annual SAG Awards America Ferrera's make-up was inspired by her beautiful Vera Wang beige chiffon gown, with black trim accented by a giant flower at her hip. Linda Hay wanted her make up to have a fresh and romantic feel, yet very modern to compliment the gentle nature of her dreamy gown. Therefore she decided on a very simple eye, a peachy cheek and a deep red lip.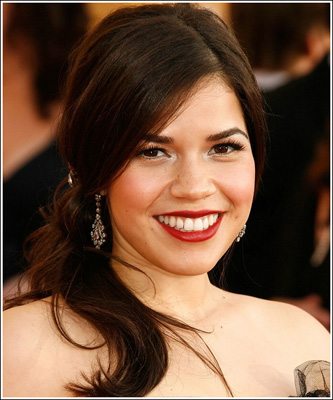 Linda began creating her look by lightly evening America's complexion using YSL's Touche Eclat where necessary, around the eyes, the nose and the corners of the mouth, followed by a light dusting of powder. She then applied Shu Uemura's "Peche" directly to the apple of the cheek for a fresh, youthful look.
Meet Heidi Klum as she launches The Heidi Collection for Very Sexy Makeup!
WHEN: THURSDAY OCTOBER 23rd, 12 to 4PM.
WHERE: AT THE GROVE , 6301 WEST THIRD STREET, LOS ANGELES.
Receive makeover by Heidi Klum or her team of top makeup artists. Call 323.634.9177 to book your appointment. Walk-Ins also welcome.
For her second signature Very Sexy Makeup collection, Heidi once again teamed up with Victoria's Secret Makeup Artist Linda Hay to create an amazing limited-edition lineup of color and finishes for the season.
With dramatic silver packaging and shade names based on a few of her favorite things, this collection is pure Heidi.
GLITTER EYE LINER
"The green and gold glitter is dramatic and fun at the same time."
In Licorice. $39
Victoria's Secret Supermodel Heidi Klum sparkles at the 60th Annual Primetime Emmy Awards.
Head makeup artist, Linda Hay gave Heidi her 1930's inspired look. Linda Hay, the Makeup Artist behind the Victoria's Secret Fashion Show and frequently requested by Hollywood's hottest celebrities – works with Heidi as her makeup artist on Project Runway and frequently creates Heidi's radiant beauty looks. Her distinctive technique allows her subject's natural beauty and character to emerge. This quality has made her truly indispensable to the most celebrated photographers and designers in the world.
How to create Heidi's radian red carpet look:
Linda was inspired by Heidi's gunmetal grey Armani Prive gown. To off set the color of the gunmetal and staying on trend with the season, Linda decided to go with a palette of green, gunmetal and silver. Keeping it soft, but bright, Linda used items from Heidi Klum's Very Sexy Makeup Fall Collection for Victoria's Secret: 
Eyes: Mosaic Eye Shadow in Butterfly
Cheeks: Mosaic Blush in Jewel
Lips: Lipstick in Malibu and Lip gloss in Cupcake

We are so excited to publish Beauty Interviews July 2008 Edition today, and feature the beautiful Khloe Kardashian (Kim Kardashian's sister) on the cover.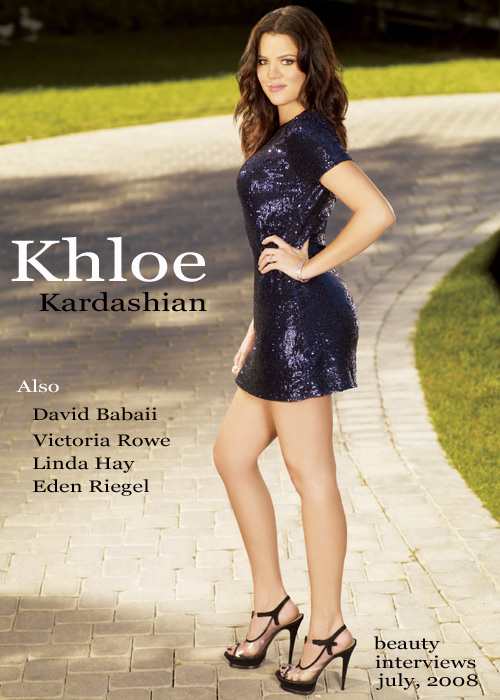 Read all about Khloe Kardashian's beauty secrets, from her signature smokey eyes look to the lip gloss her and Kim Karadashian are obsessed about, her favorite city in the world, and future career plans.
Other great interviews in Beauty Interviews July 2008 Edition include: