Talking Makeup had an exciting opportunity today to join Avon and Jillian Dempsey, their Global Creative Color Director, in a special Lipcast and get a sneak peak to hot summer lip trends.
In addition, Avon is launching 3 very innovative lipstick and lipgloss this season: Ultra Color Rich Extra Plump Lipstick, Pro 3-in-1 Lip Wand, and SpectraColor Lipstick.
Economic datas may be falling down but lipstick is still selling like hot potatoes at Avon! I like to hear that women like to look good, even when times are tough.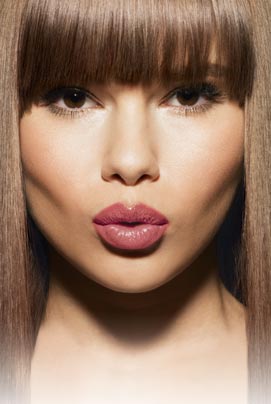 Avon Ultra Color Rich Extra Plump Lipstick, Pro 3-in-1 Lip Wand, and SpectraColor Lipstick are all multi-tasking, times saving, and simple to use. They come in very modern, wearable and versatile shades.
According to Jillian Dempsey the color inspiration for Avon latest lipstick and lipgloss collections comes from her love looking and observing people. Jillian likes to watch women in daily life and see which colors they like to wear depending on their lifestyle.

You've guessed it right Jillian Dempsey
is Patrick Dempsey's wife.
According to Jillian Dempsey, the hottest lipcolor for the summer is coral, and different variation of coral ,such as: a pink coral, strong coral, or pale coral.  Also, look out for bright pinks, lots of nudes and neutrals.
Best way to pick the right lipstick according to Jillian, is to pay attention to the shape of your lips. Are your lips thin, medium, or full?
If you have thin lips stay away from dark shades of lipstick, or do not over lined them with a dark lip liner. Work with your natural lip contour. Hard lip liner or a dark lip liner is one of the biggest mistakes women tend to make when it comes to makeup, according to Jillian.
Full lips can get away with nude, pale, or neutral shades of lipstick because these shades help in balancing your lips with your overall look, without making an overpowering lip statement. Jillian pointed out that Angelina Jolie for instance who has very full lips tends to wear nude and neutral colors. Other variables that go into the decision of choosing the right lipstick for you can be your eye color, hair color, and skin tone. Lipstick is a very personal thing girls:)
More about Avon Lip Collection Summer 2009:
Avon Spectra Color Lipstick: Get seven shades of lip color packed into one sleek, innovative package. Now it's easier than ever to create a customized lip look any time. Say Goodbye to the days of carrying a bag full of different lip colors-now you've got all the shades you need at your fingertips for one low price! Featuring the revolutionary Spectra Dial Technology, Spectra Color Lipstick from Avon holds a light and dark version of your favorite shade in side-by-side chambers with a full spectrum of hues in between. Available June 2009. Price: $9.50
" To make lips appear fuller, apply a darker shade first then click to the lighter shade and dab the center of your lower lip fir eye-catching shine.'-Jillian Dempsey.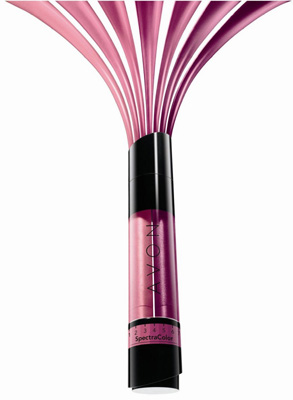 In the image below Reese Witherspoon is wearing Avon Spectra Color Lipstick in Lilac From Avon!
Avon Ultra Color Rich Extra Plump Lipstick was a love from first use for me! As soon as I put it on I felt a tingling refreshing effect. It smells like cinnamon. The icing on the cake, my lips appeared fuller and very hydrated. I'm addicted to this lipstick!
Jillian Dempsey's favorite Avon Ultra Color Rich Extra Plump Lipstick shade from the collection is: Caramel Mauve. And Talking Makeup's favorite Avon Ultra Color Rich Extra Plump Lipstick shades are: Apricot Shimmer and Rosewood.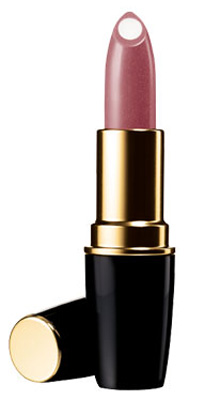 The magic about Avon Ultra Color Rich Extra Plump Lipstick is the white core, which is packed with plumping power and hydration. It is formulates to increase circulation to your lips, you will feel a slight tingling effect but it is not at all burning or painful! The white core in the center of Avon Ultra Color Rich Extra Plump Lipstick also gives a more sheer coverage and it boosts collagen. Available from May 2009, $8.00.
"Ultra Color Rich Extra Plump Lipstick gives lips the 'WOW' factor they deserve. To compliment the look, go for wide eyes with lots of black mascara and keep cheeks neutral so lips stand out."-Jillian Dempsey.
Avon Pro 3-in-1 Lip Wand: Get ready to line, define and shine! Avon is taking the guesswork out of lip color with the new Pro 3-in-1 Lip Wand. Jillian Dempsey lent her professional expertise to design the first lip wand with a coordinating pencil, lipstick and gloss in one. Jillian hand picked the shades to provide a variety of convenient and expertly matched looks. Jillian loved working on Avon Pro 3-in-1 Lip wand she even used it on a photo shoot recently and everyone loved it and wanted to get their own!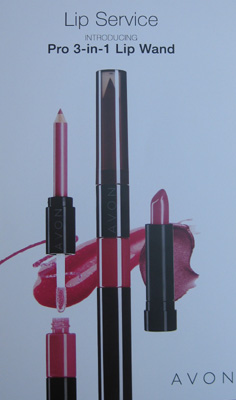 Avon Pro 3-in-1 Lip Wand will take you for day to night, from the gym in the morning to a fun night on town. Brilliant!
" For best results, blend your lip liner with a touch of lip gloss so there are no hard edges showing under your gloss."-Jillian Dempsey. Available exclusively through Avon Representative in July 2009, $9.50.