Alchimie Forever skin care products were created and developed in Geneva, Switzerland, by Ada Polla's parents Drs. Luigi and Barbara Polla. They created Alchimie Forever originally for their own medical spa clients, one of the first European medical spas Forever Laser Institute. But the line became so popular that they soon decided to expand distribution beyond Geneva.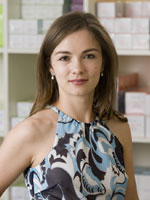 In this interview Ada Polla explains to Marta Walsh how Alchimie Forever stands out compare to other skincare brands on the market, what it takes to run a skincare company successfully, the Polla family's other passion a contemporary art gallery in Geneva Analix Forever, and her passion for building the Alchimie Forever brand as a powerful international cult brand.
How was the concept for Alchimie Forever skincare born?
Alchimie Forever skin care products were created and developed in Geneva, Switzerland, by Drs. Luigi and Barbara Polla, my parents. My father, Dr. Luigi Polla is a world renowned dermatologist and European leader in the field of cosmetic laser therapy, is an expert on skin aging. My mother, Dr. Barbara Polla, a leader in biomedical research on antioxidants and stress proteins, is a specialist in cellular aging. They created the line originally for our own medical spa clients (we opened one of the first European medical spas, Forever Laser Institut) but the line became so popular that we soon decided to expand distribution beyond Geneva.
What makes Alchimie Forever stand out compare to other skincare brands on the market?
Our main focus is the combination of science and nature. We want our products to be effective, we want to use the most current scientific research, but we also want our products to be gentle, ideal for sensitive skin types, and thus use plant extracts as our active.
What are some of the ingredients we can find in Alchimie Forever skincare products?
I always think of blueberries as our signature ingredient. However, our products are based on combinations of plant antioxidants. We also love grapes, oats, rosemary, green tea, tomatoes, tumeric, papaya, watercress, willow, cranberries, and red clover to name a few.
What difference in skin can one expect using Alchimie Forever products?
You skin will be immediately more glowing, more hydrated, and softer. Over a longer period of time, our products help to reduce redness and brown spots, thus giving you a clearer, more unified complexion.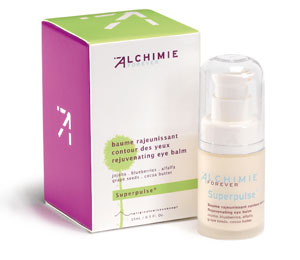 Which Alchimie Forever products are your own personal favorites?
I go back and forth regarding which products I like best. Right now I am loving our foot cream, called 532nm. It has natural pain relieving ingredients to soothe sore and tired feet and helps with swelling. I have been on my feet quite a bit this fall, so right now it is my savior!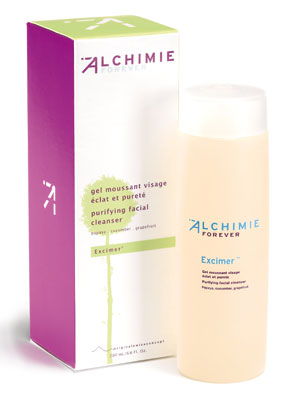 Alchimie Forever is the brain child of the Polla family: Dr Luigi Polla, Barbara Polla and yourself. Which skills each of you bring to the company?
My father is one of the top dermatologists in Europe and certainly Switzerland, so he really is a skin expert in every sense of the word. He is also the visionary behind the line, always coming up with new ideas and suggestions.
My mother has researched antioxidants and free radicals for twenty years so she brings a research and development focus to our company. She also manages sales and development in Europe, and is a master at PR!
As for me, I bring the overall drive to build the brand into a powerful international cult brand. I was the force behind our initial expansion beyond Forever Laser Institut, and live, breathe, dream Alchimie Forever all of the time. Also, given my educational background (I have a Masters in Business Administration), I also bring some more business-specific skills.
Where does the name Alchimie Forever come from?
Alchimie is the French word for alchemy, which is the medieval science that predated chemistry. My sister Cyrille and I came up with the name while brainstorming in a cute coffee shop in Geneva. We like Alchimie because it refers to both science (what is today chemistry) and magic (think of the alchemists trying to transform lead into gold and find the stone of eternal youth). And to us, that is what skin care is – a bit of science, and a bit of magic!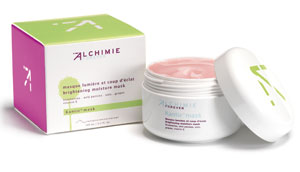 Which area of skincare development do you feel will produce the most innovations in the coming years?
I think some of the best scientific research coming out is the continued proof that natural, plant-based antioxidants are among the best and most beneficial for the skin. I also love the improvements being made in sunscreen. Finally, I think that there is much mis-education in the market that needs to be dispelled, about synthetics, about parabens, about claims of what skin care products can do, and more.
What does it take to run a skincare company?
What it takes to run any company – passion, drive, ambition, leadership qualities, and great people and communication skills. Skin care specifically also requires a particular love of women, since it is an industry dominated by women. That is part of what I love so much about my job.
What do you love most about your job?
I love working in a world of women. I also love to help women feel better about themselves, feel more confident, and thus be more beautiful. I also love growing a brand and celebrating our victories, even the little ones. Anytime something important happens for us, I insist my team celebrate over a glass of champagne. It is a wonderful way to unwind and show thanks to the people who are helping us succeed and grow. And celebrating the small victories enables us to better handle the challenges and bumps in the road. Most of all, however, I love working with my family. With my parents of course, but also with my three younger sisters, who are all intimately involved in the business.
What is your number one beauty secret?
Something my mother taught me: when you are feeling your worst, whether it be tired or sick or having a bad day, make extra effort in your personal appearance. It starts the road back uphill and makes you feel better when people compliment you all day as to how you look.
What other passions does the Polla family have besides skincare?
Our other passion is contemporary art. We opened our own contemporary art gallery in Geneva, Analix Forever www.analix-forever.com in 1991 and have discovered some great artists including Matt Saunders, Mat Collishaw, Vanessa Beecroft, and more.
It was a pleasure to interview Ada you can find out more about Alchimie Forever at the official website: www.alchimie-forever.com