Pierre Michel: The Salon of All Generations. The NYC Beauty Staple Reinvents Itself with a New, State of the Art Location.
New York City's renowned Pierre Michel Salon proudly introduced their new and improved location to the public TODAY. Following a year long design process, the new salon creates a modern setting in which Pierre Michel's expert staff can offer their clients top of the line services in the utmost comfort and luxury. The new location is conveniently located around the corner from the current, on the third floor of 135 East 57th Street.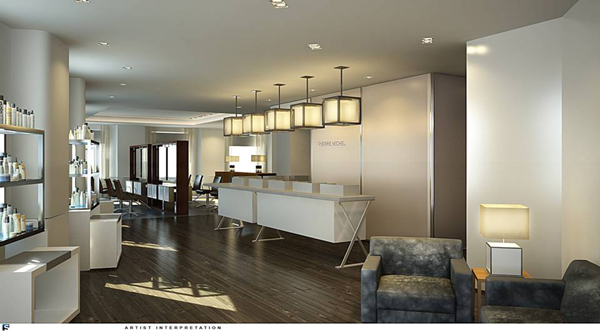 Pierre Michel has established itself as one of New York's premier beauty salons in its 40 years of impeccable service and cutting edge approach to the industry. Their staff, comprised of some of NYC's finest hair and beauty experts, will be able to better serve the salon's elite clientele with the new salon's exceptional accommodations. The salon has been dedicated to reinventing itself every decade to reflect changing times and society demands, thus catering to women of all generations and proving that beauty knows no age.
The new 10,000 square foot location is surrounded by 35 windows, causing an abundance of natural light to flow through the salon and bettering allowing hair colorists to create the optimum hue. The salon also includes 61 work stations separated according to service, each equipped with a camera and telephone to facilitate communication amongst the staff in order to best serve the clients. Further, sound proof tile floors and walls create a quiet, relaxing atmosphere very different from the usual loud and hectic salon environment. Not to mention the installation of WiFi, so if the clients desire to, they can access the internet and work while they are getting their hair done at the salon.
The new Pierre Michel Salon will also offer a unique element of privacy. For example, women will be seated in a private room while their hair processes instead of waiting in the exposed lobby. This is especially convenient for high profile clients who may not want to be noticed. Compounding the privacy factor with the luxurious accommodations results in a salon experience that leaves the clients feeling as if they are receiving the treatments in their own homes.
Aside from the layout, the new salon boasts gorgeous furniture and decorative materials. Each item was tested prior to reaching the salon floor to ensure comfort, elegance, and efficiency. Pierre Michel was able to achieve a perfect balance between luxury and practicality, optimizing both while sacrificing neither.
The outstanding results are due in large part to esteemed architect/designer Peter Williamson, president of the Celadon Group LLC. He has previously worked with notables such as Armani, Donna Karan, Gucci, and Calvin Klein, and was formerly the Creative Director of Nike. Peter was able to translate the visions of Pierre Michel's founders into their dream salon: a place where members of all generations can unite for the sake of beauty.
In addition to the amazing new architecture, Pierre Michel will now exclusively offer the wonderful Shu Uemura beauty line; currently found in high end department stores such as Barney's and Neiman Marcus, Pierre Michel is the ONLY beauty salon in which this amazing brand is sold. Shu Uemura uses original packaging, unique textures, key ingredients and ground-breaking product formulas to create the perfect makeup for every woman. Regarding hair care products, Pierre Michel will now offer the popular and proven-effective Kerastase line alongside their already-sold RepHair by Pierre Michel with AC-11. This exclusive line is specially designed to repair damaged hair and stimulate hair growth, and is an example of Pierre Michel's excellence that will carry over into the new amazing salon.