All Posts Tagged With: "Scarf"
Christy Turlington was spotted wearing the Theodora & Callum Orange Multi Bodrum Wearable Art Gauze Scarf supporting Every Mother Counts while out in NYC today. Just in time for Mother's Day, Theodora & Callum has partnered with Christy Turlington and is donating a portion of sales for the month of May to Christy's charity, Every Mother Counts.
Fashion. Loving my Fierce Fuchsia scarf by Miguelina today. BTW it's January and the weather in Scottsdale slash Phoenix just heaven:) I'm pictured here at Starbucks in Kierland.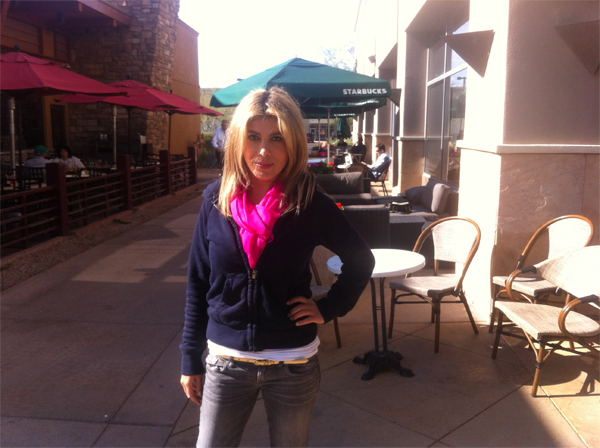 Marta Walsh in Miguelina Fierce Fuchsia Scarf
Miguelina can be found in over 250 stores worldwide including luxury department stores and high-end boutiques such as Bergdorf Goodman and Harvey Nichols. Website: www.miguelina.com
Private Practice star, Kate Walsh was photographed on Monday afternoon, April 18th, 2011, wearing a Theodora & Callum scarf while leaving the Kate Somerville Skincare Clinic in Los Angeles.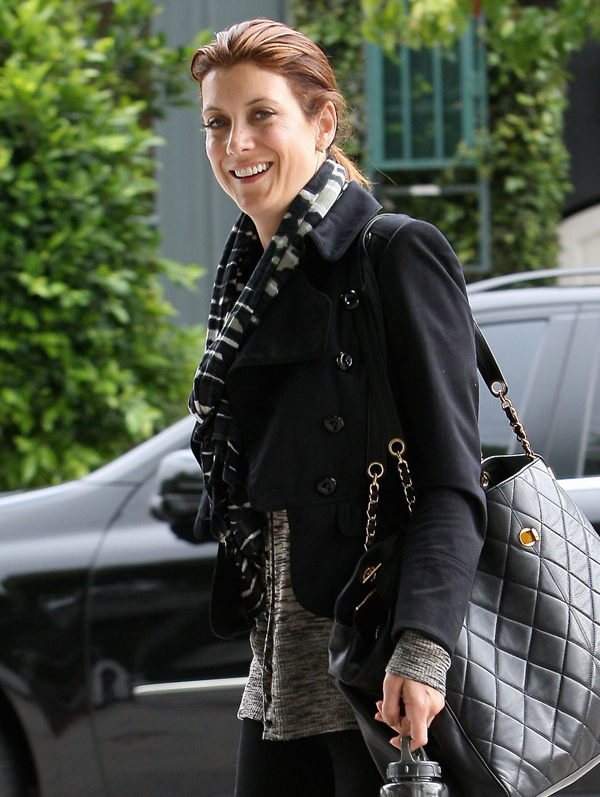 Kate Walsh
Recently celebrities, Alyson Hannigan, Britney Spears, Elisabeth Hasselbeck, Emmy Rossum, Heidi Klum, Kate Hudson, Selita Ebanks, and Selma Blair have all been seen sporting fun spring/summer scarves from the line.
SEE PICS:
Britney Spears was photographed yesterday (Thursday, March 24th, 2011) at LAX with boyfriend Jason Trawick wearing the Theodora & Callum Bali Fringe Wearable Art Scarf ($145 available at www.theodoraandcallum.com)
Britney and Jason were surrounded by bodyguards as they made their way through LAX to catch a departing flight to San Francisco for GMA. Ms. Spears will be taping a performance for Good Morning America this weekend that will air on Tuesday morning, the day her upcoming album is slated to hit!
Other celebrity fans of the line include: Emmy Rossum, Heidi Klum, Kate Hudson, Selma Blair, Elisabeth Hasselbeck, Selita Ebanks, and Maria Menounos.
MAC Give Me Liberty of London available March 11, 2010 through April 2010: The very latest in a series of famous MAC Collaborations, it was only a matter of time before the demure-to-daring kaleidoscopic prints of Liberty of London coloured our world with Brit wit and bohemian chic. From the unstudied, Sienna Miller style of Spitalfields Market to the grit-and-glamour of Portobello Road, the swinging London girl has always been an unstoppable MAC makeup force! Spring 2010 insists on the ultimate flower fusion, with MAC Give Me Liberty of London, creating cool Britannia compacts and Lipsticks, Eye Shadows, Powder, Blush, Nail Lacquers and, of course – blushing, bountiful, quite British accessories.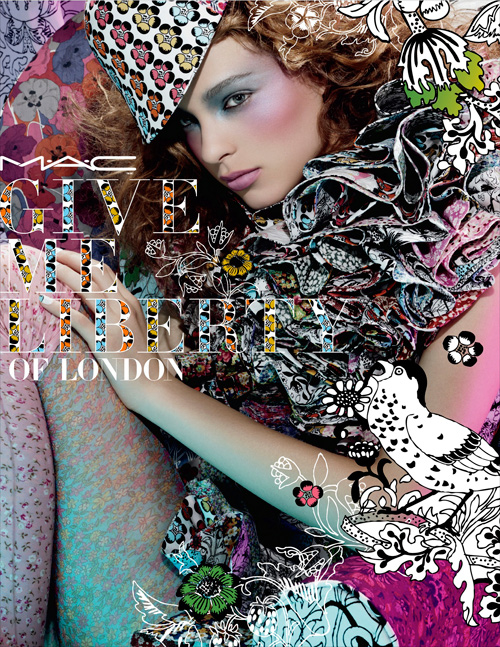 Beauty Powder ($25.00 U.S. / $30.00 CDN)
The luxurious, soft pearl finish of MAC Beauty Powder packaged in a glossssy white compact. Lid is decorated with an exclusively created flower and bird pattern for the Give Me Liberty of London collection. Limited edition.
Shell Pearl Pale peach with gold pearl
Summer Rose Soft violet pink with pearl