All Posts Tagged With: "Solid Perfume Compact"
The weather is getting colder and that can only mean one thing – the holidays are just around the corner! Don't waste your time standing in long lines and stressing about what to get your loved ones. This year, allow Estée Lauder to help make holiday shopping a breeze!
Give the Gift of Glamour. The beautifully radiant limited edition Opulent Shimmer Powder ($32) is luxuriously handcrafted with pressed powder that instantly adds dazzle and a hint of color to the skin. Packaged in a golden metalized round compact with a mirror, this powder provides the essential holiday party glow that every woman desires.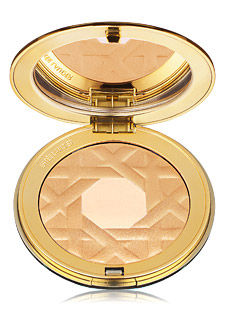 Introducing Bare Skin The First Fragrance From Leslie Blodgett! Leslie is also the creator of Bare Escentuals.
Inspired by entrepreneurial powerhouse Leslie Blodgett's dynamic life, Leslie Blodgett Perfume Diaries is a limited edition fragrance collection, created exclusively for Sephora, that revisits and evokes pivotal moments in Leslie's life. Having kept journals since she was a young girl, Leslie has captured the essence of every trip she has taken through the pages of her journals. With the release of its first fragrance Bare Skin on 10/08, these pages have been brought to life through scent, enabling Leslie's ardent fans to walk a fragrant mile in her shoes.
Watch: Leslie Discusses her fragrance line at Sephora, Leslie Blodgett Perfume Diaries. Her first fragrance launch is Bare Skin and is exclusively available at Sephora
Bare Skin, the first scent in the series, is reminiscent of an experience during a trip to Mexico, where Leslie cart-wheeled fancy-free down a sunny beach while emanating true, unbridled joy. "When I have an experience, I like to have a scent behind it. Bare Skin, which is what Mexico reminds me of, is the way you feel when the sun is beating down on you during the day, but then you go out at night and you're still sizzling from the warmth of the day which mingles with the night air and the music."