All Posts Tagged With: "The Max Huber Research Labs"
Milan Fashion Week SS 2011. Designer: Max Mara. Makeup by Tom Pecheux for MAC. The Makeup Look:  "It's nineties Helmut Lang, very minimal, monochromatic and about the contrast of matte satin skin against gloss to bring out the lips and eyes."-Tom Pecheux.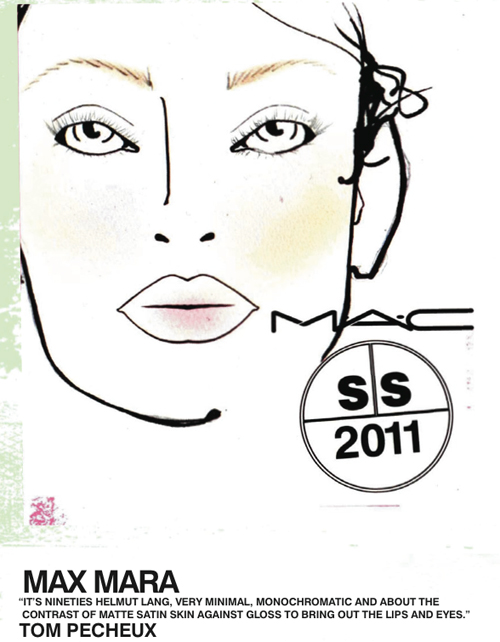 Max Mara MAC makeup face chart SS 2011
How-t0 using all MAC:
La Mer introduces The Hydrating Infusion which will be Available in September at select Saks Fifth Avenue, Neiman Marcus, Bergdorf Goodman and www.lamer.com.
Over forty years ago, aerospace physicist Dr. Max Huber envisioned harnessing the energy of the sea to create a miracle. Today, looking to the sea as a source of life and inspiration, The Max Huber Research Labs have created a next-generation infusion – The Hydrating Infusion. With nourishing vitamins and essential minerals, this high-potency treatment pre-wets the skin to receive and maximize the transformational benefits of Crème de la Mer.

A cascade of hydration saturates the skin as The Hydrating Infusion's serum-like texture transforms into a watery fluid upon application. An interactive gel network suspends the vital ingredients in the formula and releases them on demand. Activated by the skin's pH and temperature, this smart gel responds by giving the skin the hydration and nutrients that it needs.
"We discovered that if the skin is too dry, the moisture barrier becomes over-taxed, creating a parched condition that makes it even more difficult for skin to absorb the hydration that it needs," says Loretta Miraglia, Senior Vice President, Product Development and Innovation, The Max Huber Research Labs. "Like a pre-dampening a sponge, The Hydrating Infusion gives the skin an initial burst of hydration in a form that it can readily absorb, preparing it to fully receive the benefits of the Moisturizing Crème. By doing so, it helps skin to maintain optimum moisture levels and regain a healthy center."