Celebrity Hairstylist Marcia Hamilton created this stunning look for Jada Pinkett Smith at the 3rd Annual Essence Black Women in Hollywood Luncheon.
The Hairstyle: Braided & Textured Pony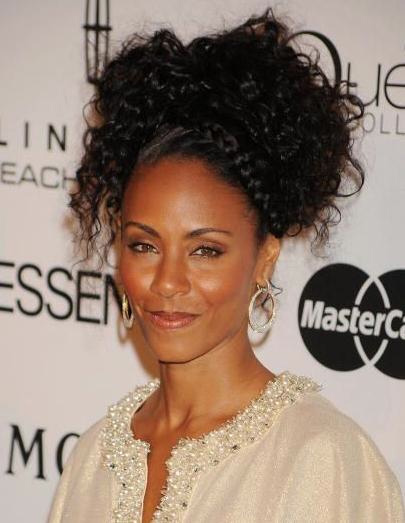 Hair Tutorial:
1. Create the Braid – Make a part, starting from behind the left ear to the right ear. Then, create a deep right-side part leaving out the lesser hair. Gather the front section of hair and tease the root to create texture and volume. IT&LY Hairfashion Purity Design Pure Texture Volumizing Spray at the root area for hold. Braid the hair on the scalp from right to left all the way to the end.
2. Make a Pony – Brush the rest of the hair into a high pony above the ears and secure with a holder. Apply H2pro Silk 1 Minute Thermal Hair Treatment on the pony and divide into small sections. Curl into spiralsand apply a light shine serum to your hands and separate spirals. Then, spray with a texturizing mist for added texture and a bit of roughness.
3. Shape the Pony – Take the end of the braid and pin it to the part on the scalp. Then take a bobby pin with the open end, swoop into the curled pony, lift and pin to scalp. This creates a bit of lift and added structure, repeat until you're happy with the shape. Utilize a light wax spray for shine and texture and finish with White Sands Infinity Finishing Spray for lasting hold.
www.marciahamilton.com