NARS Cosmetics was backstage creating the makeup look for Phillip Lim's Autumn/Winter 2009 show.
SHOW: Phillip Lim. LEAD ARTIST: Ayako, International Makeup Director, NARS Cosmetics. TREND: Wispy lashes, translucent matte skin.
Inspiration: The Fall 2009 collection took inspiration from the mythical spirit of rock and roll, while the hair and makeup was created to emulate Tao Okamoto's look, a Japanese model in Phillip Lim's Fall 2009 collection. Fused together, Phillip wanted the makeup look to mirror Tao's mod style with a touch of rock n' roll. With this in mind, Ayako created a look centered around "poetic mod-rock."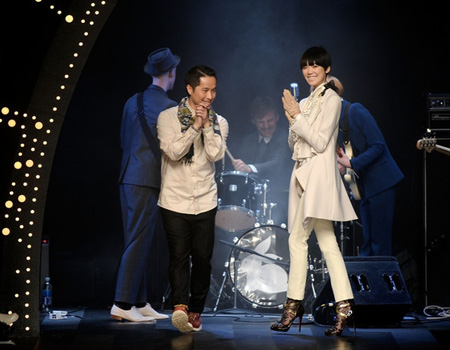 Look: False lashes were placed on the outer half of the bottom lash line and was the central focus of the look. For an exaggerated effect, matte charcoal shadow was used with a wet eyeliner brush to draw lashes beneath, as if to create a shadow effect. "This is the poetic part of the look," said Ayako. As a complement to the wispy lashes, shimmering pink and gold shadows covered the lids, while the lips were muted with concealer. Skin was made flawless with the newly formulated sheer matte foundation (NEW for Fall 2009) to counteract the sleepy look of the lengthy bottom lashes. Atop the matte skin, a gentle sweep of shimmer was added to cheekbones to catch the light.
Below is a step-by-step to recreate the look:
Face: Apply NARS Concealer generously, to cover any imperfections. Use a small amount of NARS Sheer Matte Foundation (NEW for Fall 2009) to create even, beautiful skin. With NARS Yachiyo Brush, dust NARS Single Eyeshadow in Bombshell from apple of cheeks up to temples for a light shimmer without pigment.
Eyes: Line lower lashes with NARS Glittler Pencil in Danceteria. Smudge with finger to bring out gold shine. Use NARS Eye Contour Brush to layer rose gold with golden flecks side of NARS Duo Eyeshadow in Silk Road(NEW for Fall 2009) over Danceteria. Apply frosted champagne side of NARS Duo Eyeshadow in Indian Summer (NEW for Fall 2009) over entire lid, blending up to brow. Cut a set of false eyelashes in half and apply to outer half of lower lash line. Apply NARS Larger than Life Volumizing Mascara (NEW for Fall 2009) to lower lashes. Wet NARS Liquid Eyeliner Brush and apply matte charcoal side of NARS Duo Eyeshadow in Brumes (NEW for Fall 2009), drawing lash shadows on outer half of lower lash line.
Lips: Apply a generous amount of NARS Concelear to entire lip.
NARS products are available at www.narscosmetics.com