All Posts Tagged With: "NARS Concealer"
Loving the NEW NARS Soft Matte Complete Concealer. I alternate between 3 shades depending on how light or dark I want my makeup to look. From light to dark: Creme Brûlée Light 2.5, Custard Medium 1, and Macadamia Medium 1.5. The consistency of this concealer is super smooth and not chalky. Long lasting. Extremely easy to blend. Works on my sensitive skin. In fact, NARS foundations and concealers  in general have a very nice gentle to skin formulas and are one of my all time favorites.
NARS Cosmetics was backstage creating the makeup look for Phillip Lim's Autumn/Winter 2009 show.
SHOW: Phillip Lim. LEAD ARTIST: Ayako, International Makeup Director, NARS Cosmetics. TREND: Wispy lashes, translucent matte skin.
Inspiration: The Fall 2009 collection took inspiration from the mythical spirit of rock and roll, while the hair and makeup was created to emulate Tao Okamoto's look, a Japanese model in Phillip Lim's Fall 2009 collection. Fused together, Phillip wanted the makeup look to mirror Tao's mod style with a touch of rock n' roll. With this in mind, Ayako created a look centered around "poetic mod-rock."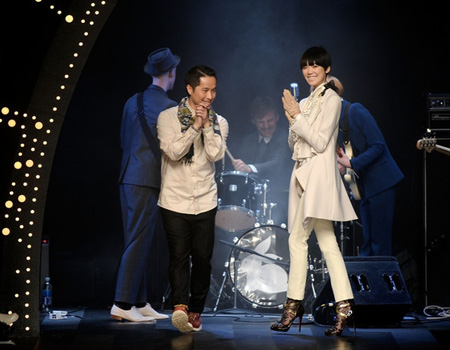 Look: False lashes were placed on the outer half of the bottom lash line and was the central focus of the look. For an exaggerated effect, matte charcoal shadow was used with a wet eyeliner brush to draw lashes beneath, as if to create a shadow effect. "This is the poetic part of the look," said Ayako. As a complement to the wispy lashes, shimmering pink and gold shadows covered the lids, while the lips were muted with concealer. Skin was made flawless with the newly formulated sheer matte foundation (NEW for Fall 2009) to counteract the sleepy look of the lengthy bottom lashes. Atop the matte skin, a gentle sweep of shimmer was added to cheekbones to catch the light.
Below is a step-by-step to recreate the look: