Check out www.teen.com  and www.privatetheseries.com , to watch episodes of "Private: The Casting Call," a competition for a role in "Private," an original web program based the New York Times bestselling Private book series.
"Private: The Casting Call," introduces us to three aspiring actresses, selected as finalists through an online casting contest, and will follow them as they compete for the role of "Kiran" in "Private."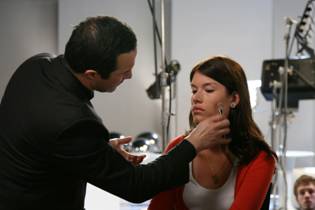 When it comes time for the finalists to perform screen tests with Evan Taubenfeld, who plays "Blake" in "Private," they are treated to a surprise visit from celebrity makeup artists and NEUTROGENA Cosmetics Science Expert, Matin. Try: NEUTROGENA SkinClearing Oil-Free Makeup to look shine-free and camera ready, without the threat of clogged pores.
As the finalists prepare to compete in the Stress Control Challenges a visit from NEUTROGENA Brand Ambassador and former Miss USA, Susie Castillo, will help the finalists relax. Susie's helpful pointers allow the girls to manage the stress of the competition and keep their focus. Try: The NEUTROGENA Oil Free Acne Stress Control collection to stay calm and keep skin clear.
To find constantly updated extras visit www.privatetheseries.com  for sweepstakes, polls, interviews and savings on NEUTROGENA products including a $3.00 off coupon for the NEUTROGENA WaveTM Duo Power-Cleanser.
Matin interview with Marta Walsh