Today, Tuesday, April 14th, singer/songwriter Solange Knowles, alongside The Body Shop and MTV Networks International, kicked off the global launch of their new HIV/Aids safe sex campaign, Yes, Yes Yes to Safe Sex!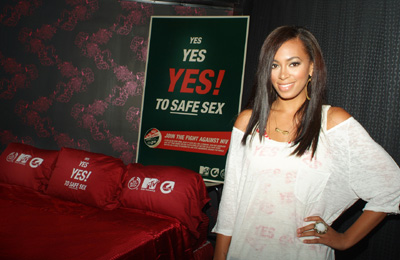 Solange Knowles celebrates the launch of The Body Shop and
MTV campaign, "Yes, Yes, Yes" to safe sex in New York City on Tuesday.
To get lips moving about this vital issue, Solange lounged on a luxurious bed in the heart of Soho to answer questions and promote the campaign. Leading Sex Expert Dr. Sari Locker, author of "The Complete Idiots Guide to Sex", was also on hand to answer some interesting sex questions.

The campaign includes the launch of The Body Shop Tantalizing
Lip Butter, which will give approximately $5 from every purchase
to the Staying Alive Foundation, which funds grassroots safe sex
campaigns around the world.
The action then moved uptown to Times Square for a rare glimpse of The Naked Cowboy with pants on, as he got dressed to show his support for safe sex with a pair of "Yes" branded pajamas. He sung the praises of The Body Shop and MTV International's campaign for safe sex and led "Yes, Yes, Yes" volunteers in handing out over 100,000 free Durex condoms to adults in Times Square.

To raise awareness for The Body Shop and MTV's "Yes, Yes, Yes"
to safe sex campaign, The Naked Cowboy gets dressed while
handing out condoms in Times Square today.
With research showing over 3,000 new HIV infections daily among young adults ages 15-24, the "Yes, Yes, Yes" campaign is designed to target young people taking risks with their own health and that of their sexual partners. To raise awareness, The Body Shop is also launching an exclusive Tantalizing Lip Butter ($8), to help raise funds for HIV/AIDS awareness and prevention. Approximately $5 from every purchase of the fruity lip butter will benefit the Staying Alive Foundation, a charity empowering young people around the world to protect themselves and their communities against HIV and AIDS.
"The Body Shop has a rich history of supporting important social and human causes. We felt it was imperative to encourage a discussion on safe sex even it meant causing a bit of a commotion. We hope this campaign educates consumers on the importance of safe sex and knowing your status", stated Shelley Simmons, Director of Values for The Body Shop America.
To augment in store efforts, The Body Shop in collaboration with MTV will also host an interactive web site, www.yestosafesex.com , where consumers can learn to say the word "Yes" in a variety of languages and make their own personal pledge to only engage in safe sex to protect themselves from HIV/AIDS.
Over the last two years MTV and The Body Shop have raised more than $2 million for the Staying Alive Foundation. This funding has provided grants to young people to work on HIV prevention efforts amongst their peers at a grass-root level. To find out more about award recipients benefiting from campaign support, visit: www.staying-alive.org .