All Posts Tagged With: "Ben Stiller"
Couple of months ago, thanks to Neutrogena, I was given an amazing opportunity to interview actress Malin Akerman for Beauty Interviews.
I was so excited for the interview because Malin Akerman is one of my favorite up and coming Hollywood actresses. After watching Malin Akerman in the film 27 Dresses opposite to Katherine Heigl, I am convinced Malin is the next it Hollywood actress. Malin's acting style reminded me a bit of Cameran Diaz, especially in the film The Heartbreak Kid opposite to Ben Stiller. In the movie, Malin Akerman is very funny, witty, and is not afraid to make fun of herself.
Here it is, Marta Walsh interviews Malin Akerman about acting, and her collaboration with Neutrogena in the effort to educate people about skin cancer prevention: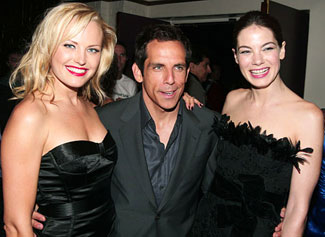 What compelled you to partner with Neutrogena in the effort to educate people about skin cancer prevention?
This video and message is something I have a passion for because I understand the importance of checking your skin for suspicious moles. I recently had a suspicious mole removed on my face; I noticed it was changing shape and asked my dermatologist to examine it. I was one of the luckier ones.
If you had to pick one Neutrogena skincare product to incorporate into your skin cancer prevention routine, what would it be?
I would have to say Neutrogena Ultra Sheer Dry-Touch Sunblock SPF 85 as it is really the "gold-standard" in sun protection. It contains Helioplex, which offers the highest level UVA sun protection available in the U.S., while shielding skin against sunburn and premature aging.
What are your top 3 beauty secrets?
Wear a moisturizing face cream with 30 or higher SPF every day. Use a gentle face wash to clean your skin every day (my favorite is Neutrogena foaming face wash) and remember to smile… it automatically makes you 10 times more beautiful!