All Posts Tagged With: "Givenchy Rouge Interdit Satin Lipstick"
On my recent trip to New York City, I had breakfast with Givenchy! Yes, Givenchy, sounds a bit like 'breakfast at Tiffany's' right? Needless to say, that day changed my life. I know, I'm a bit over dramatic, but it's true. If you had the opportunity to meet and hear Givenchy's Le Makeup Artistic Director Nicolas Degennes I'm sure you too would  fall in love…with Givenchy, with makeup, beauty, and being a woman.
Nicolas Degennes presented us with Givenchy's Spring 2009 Makeup Collection or the Maharani Spring 2009 Collection and walked with us through his inspiration journey when creating this beautiful collection. Which in case was India.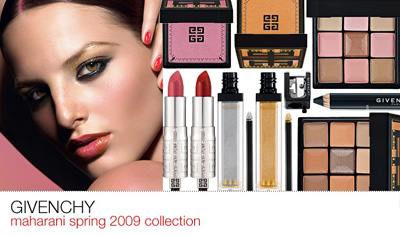 Nicolas' philosophy about makeup and beauty is all about freedom. The freedom to express yourself with makeup and be what you want to be, and the freedom to play with makeup. He told us many times at the meeting to please touch the makeup, feel it, don't be afraid to play with it and make it your own!
I'm wearing Givenchy today: Prismissime – 22 Maharani Apricots. Shade #5 from left to right on my eye lid and a bit on my crease, and shade #1 from left on my brow-bone and inner corner.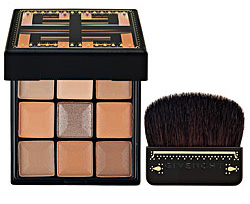 I've lined eye lids with one of the best eye pencils I've ever tried, Magic Kajal Eye Pencil! It is rich in pigment, glides on easily on skin, and lasts all day. Really, you have to try this! Nicholas Degennes told us at the meeting that in India both men and women wear an eye liner such as the Magic Kajal Eye Pencil to protect them from the sun!