All Posts Tagged With: "MAC Sugarsweet"
In my recent Avon lip colors video giveaway I wore MAC Nail Polish in Peppermint Patti, which happens to be my absolute favorite lately. 
Here is a photo from my video to demonstrate (btw-I'm holding Avon Spectra Color Lipstick):
 
Marta wearing MAC Nail Lacquer in Peppermint Patti from
MAC Sugarsweet collection, described as Creamy mint green (Cream).
MAC Peppermint Patti Nail Polish is a minty or almost aquatic shade which looks great by the beach or by the pool in the summer.
Actually, many of Talking Makeup's viewers gave me compliments and loved my nails all lacquered up in MAC Peppermint Patti. Thank you guys! You are the BEST:)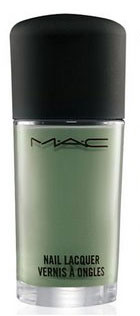 Watch Marta's video blog for today talking about MAC Sugarsweet makeup collection.
Products mentioned in Marta's video blog: MAC Lipstick in Sweet Thing, MAC Tricolour Lipglass in Tasty, MAC Shadestick in Lemon Chiffon, MAC Nail Lacquer in Peppermint Patti, and MAC Mineralize Skinfinish in Perfect Topping.

Makeup Artist Stephanie Flor's video blog for today was provided by www.misslush.com  style & beauty video sharing website. Upload your video today, just register it's FREE, and upload!
MAC Sugarsweet will be available starting March 19th, 2009 for a limited time.
Who cares if the Candy Man can…It's the cupcake ingénue who's caught the sweet spot this season.
Temptation is everywhere – luscious, whipped-cream decadent, deliciously decorative frosting colours and sugared almond combinations. Like peering through the window of a Parisian patisserie, you'll want to become one of each! Have fun with a new Red Velvet recipe Shadestick. Tricolour Lipglass is like a mille feuille of layered lip gloss colours, each gives way to the next in a triple-layered pearl-swirl of prettiness; add extra-yum to Eye Shadow; Perfect Topping Mineralize Skinfinish is the ultimate cake walk. We could eat you up.
MAC Sugarsweet:
LIPSTICK
Bubbles Sheer frosty white beige
Saint Germain Clean pastel pink
Lollipop Loving Clean mid-tone coral and subtle green with gold iridescence
Sweet Thing Mid-tone magenta with multidimensional pearl
Touch Peachy cinnamon
Suggested Retail Price $14.00 U.S./$16.50 CDN