All Posts Tagged With: "wax"
GET THE LOOK: Last night Jennifer Love Hewitt was a guest on George Lopez' hit show, Lopez Tonight, speaking about "Vajazzeling" "After a breakup, a friend of mine Swarovski crystalled my, um, precious lady," Hewitt told Lopez. "It shined like a disco ball."
Cindy Barshop of completely bare hi-tech spas in NYC has been utilizing this treatment since 2000 when her signature treatment completely bare with a flair launched. This treatment is a signature completely bare ouchless wax Brazilian wax (everything removed) followed by a Swarovski crystal tattoo design in starburst, butterfly, heart and numerous other shapes.
Cindy Barhop says that "Hip, trendy and confident women like Jennifer get this done. Its like buying a new pair of lingerie or getting a mani/pedi. It's a feel-good service…" and that "men LOVE it on women. They love it even more when it's a surprise."
Brand New Mini Wax Kit from Anastasia Beverly Hills Set To Launch in January 2010!
Created by The Definitive Brow Expert Anastasia Soare to whisk away unwanted hair. Mini Wax Kit is designed for convenient at-home use. Sugar based wax is gentle and easy-to-use. Great for quick brow and lip maintenance in-between regular salon appointments.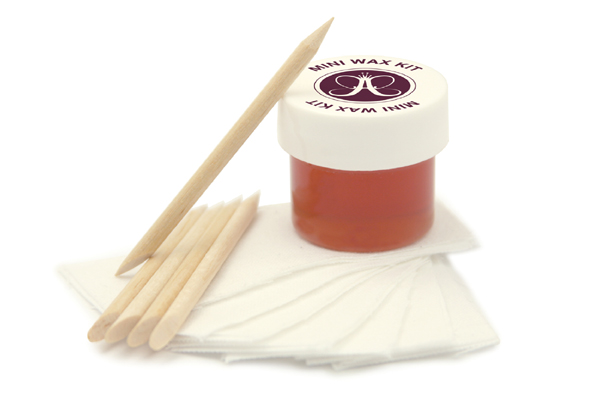 FEATURES & BENEFITS
Gentle Facial Wax
Five Natural Sticks
14 Muslin Strips
Complete waxing instructions
To wax or not to wax is the question this summer. If you are new to waxing here are some answers to some of the question you might have about waxing.
The Q&A is provides by The Waxing Co, the destination for hair removal in Honolulu, Hawaii.
Why remove hair with wax?
Waxing makes skin feel soft and it lasts much longer than shaving. Some people wax because they feel it is more hygienic. Our bodies release natural oils and sweat on a daily basis. Our hair can hold on to them as well as the odor they produce. When you remove the hair you can stay cleaner and fresher longer.
What are the different kinds of wax, what is the difference between them?
There are a few different types but the two most popular waxes are hard wax and soft wax. Soft Wax is the wax most people are familiar with. It is a wax that goes on warm you put a cloth strip down and pull the hair off. It is best for soft and light hair. Hard Wax is a stripless wax that goes on like soft wax but then hardens and you pull the wax itself off with no cloth strip. It is best for hard, coarse hair.