Frederic Fekkai Partners with CFDA/VOGUE Fashion Fund to host the LA Runway Show for the 2009 Designer Finalists.
While the top designers in America were vying to win the 2009 CFDA/Vogue Fashion Fund Award (which will be announced tonight), what really wowed the crowd were the two hair looks designed by celebrity stylist, Renato Campora for Frédéric Fekkai. As the exclusive beauty partner for the event, the Fekkai team worked closely with Vogue and the 10 Designer Finalists to create two special hairstyles, the Wet Look and the Dry Look, to compliment each of the collections.
Frederic Fekkai's Lead Stylist, Renato Campora Creates Two Signature Hair Styles with an Emphasis on Texture:
The first look is a sculptural and edgy ponytail. It's modern, young and sexy. The texture tells a story through the wet and twisted hard hair. Pieces are left in front for an effortless feel, inspired by some of the graphic trends shown in the collections.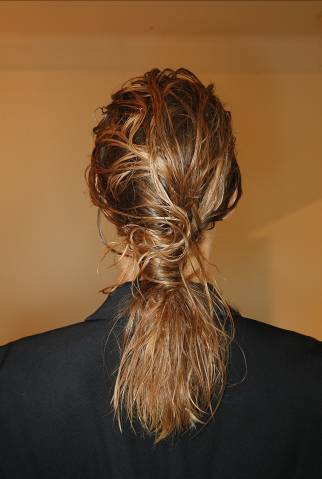 To achieve this look:
– Use your hands as styling tools to create this piecey look.
– Apply Fekkai COIFF Extra Control Styling Gel to damp hair and comb through with fingers, no blow dry required.
– Pull hair into textured sections before twisting together into a low ponytail just above the nape of the neck.
– Secure the twist with bobby pins, letting shorter pieces fall to the side.
– Shape the hair into a long sleek ponytail.
Look #2: The Dry Look
The second look is a modern, angelic take on a tousled, bohemian style. It's dramatic, yet romantic and very wearable. Hair is full and voluminous with an airy soft texture that allows for movement as you walk. Pieces are left in front to frame the face and accentuate the jewelry shown in the collections.
To achieve this look:
– Apply Fekkai COIFF Strong Hold Mousse to damp hair and scrunch with fingers as you blow dry completely to create the wild texture.
– Wrap hair in big sections around twist-ties (fabric curling rods) to create volume at the  and soft curl for movement.
– Tease hair at the roots using a fine comb, and apply Fekkai Au Naturel Powder Clean Dry Shampoo to add thickness and extra structure, but no weight.
– Pin the sides to the back of the head and secure with bobby pins.
– To secure height at the crown, finish with a fine mist of Fekkai Full Blown Volume Lifting Hairspray.
PRODUCTS USED:
Fekkai COIFF Extra Control Styling Gel Never flaky or sticky, this lightweight medium hold gel keeps hair exactly where you want it. The innovative all Day Style-Memory Lasting Complex shapes and controls the hair throughout the day…and night! Retail Price: $23.00, Bloomingdales
Fekkai COIFF Strong Hold Volume Mousse Fully fabulous. This ultra-light whipped mousse achieves the impossible? all day, all-out body and texture that never falls flat. Retail Price: $23.00, Bloomingdales
Fekkai Full Blown Volume Lifting Hairspray – This lightweight formula holds volume to lift the roots and delivers powerful fullness that is never stiff or sticky. Retail Price: $20.00, Saks Fifth Avenue
Fekkai Au Naturel Powder Clean Dry Shampoo: This naturally formulated product free of sulfates, parabens, dyes and synthetic fragrances, gently cleanses hair with a natural botanical blend, infuses hair with conditioning ingredients, removes excess oil and builds volume. Hair is left refreshed and revived without the use of water. Retail Price: $23.00, Fekkai.com