The summer season is here and it's time to lighten and brighten haircolor! Go behind-the-scenes with Latina magazine Beauty Director, Angelique Serrano, as David Stanko, Haircolor Consultant for Redken, turns her darker locks into summer bling with Redken haircolor. Check out Angelique's before and after look and learn about Redken haircolor offerings, tips to prepare for a haircolor service, and how to make an appointment to achieve your summer look.
David Stanko began with the consultation process to hear directly from Angelique what she was looking to achieve and portray with her new haircolor. See the coloring process below:
Step 1: To lighten Angelique's overall base, David used Color Gels, a dynamic permanent haircolor brand from Redken.
Step 2: Next , David added highlights with Blonde Icing Power Lift, part of the Blonde Glam Collection, which provided luxurious, conditioning lightening ability for all bases and hair types, as well as a faster and higher lift, better conditioning with exclusive Lumisilk Technology, and a new, creamier formula.
Step 3: David toned and glossed Angelique with new Shades EQ, part of the Blonde Glam Collection, which added condition and shine to any cool blonde while controlling unwanted yellow tones.
Step 4: Redken Chemistry, an exclusive, professional in-salon service, offering intense, customized treatments to help preserve Angelique's fresh haircolor and treat distressed hair as a result of chemical and/or mechanical processes which can results in dry, brittle, frizzy, damaged, weak, sensitized, faded, and/or dull hair.

Step 5: To keep color radiant at home, David recommended the following Redken products for Angelique:
Color Extend Shampoo and Conditioner dedicated to the care and preservation of color-treated hair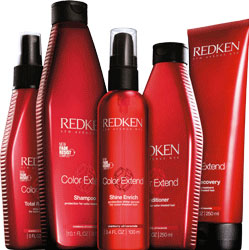 Real Control Overnight Teat night recovery treatment, renews and repairs dense, dry, sensitized hair during sleep
Blonde Glam Perfect Platinum, to neutralizes brassiness and preserves warm tones for ultra pale to light blonde locks
 To make your haircolor appointment, visit Redken.com for salons.