All Posts Tagged With: "Shades EQ"
Celebrity Hair Trends. Get Cameron Diaz' hair color as seen on the cover of Harper's Bazaar August 2010.
Looking to achieve that glamorous blonde hair color that Cameron Diaz sports on the cover of Bazaar (August issue)? Tracey Cunningham, Redken Creative Consultant for Color and Hollywood colorist, helped Cameron Diaz look stunning for the Cover shoot with Redken color. If you're looking for Cameron's color, ask your colorist for the following formulas:

Photo by Terry Richardson for Harper's Bazaar
Apply equal parts of Shades EQ 09AA Papaya, 09G Vanilla Crème and ShadesEQ Processing Solution. For added dimension, add highlights with Redken Blonde Icing Ammonia Free Conditioning Crème Lightener. Concentrate the Highlights closer around the face and diminishing in the back. Finish with a glaze of Shades EQ 000 Crystal Clear for extra shine.
Lindsay Lohan gone brunette (again?). Just in case you are wondering how to get Lindsay Lohan's brown hair color Talking Makeup has the scoop.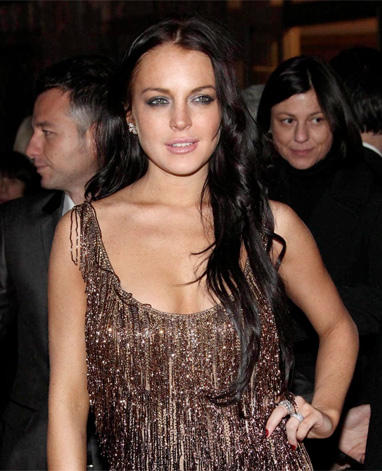 Tracey Cunningham, Redken Creative Consultant for Color and Hollywood colorist, gave Lindsay Lohan aka LiLo a fresh spring look with Redken Color. If you're looking for Lindsay locks, ask your colorist to use Shades EQ 03G Cinnamon and 03N Espresso to lock in color and shine.
The summer season is here and it's time to lighten and brighten haircolor! Go behind-the-scenes with Latina magazine Beauty Director, Angelique Serrano, as David Stanko, Haircolor Consultant for Redken, turns her darker locks into summer bling with Redken haircolor. Check out Angelique's before and after look and learn about Redken haircolor offerings, tips to prepare for a haircolor service, and how to make an appointment to achieve your summer look.
David Stanko began with the consultation process to hear directly from Angelique what she was looking to achieve and portray with her new haircolor. See the coloring process below:
Step 1: To lighten Angelique's overall base, David used Color Gels, a dynamic permanent haircolor brand from Redken.