All Posts Tagged With: "Tracey Cunningham"
February 2016 (New York, NY) – Recent studies show that 68% of salon-goers want to go lighter and a majority of these women are looking for a perfectly customized shade. Redken – the blonde authority – is excited to offer an expanded and extensive color portfolio to answer the growing demand for blonde personalization and popular trends such as Babylights, seen everywhere from sidewalks to catwalks.
In February 2016, following the successful 2015 launch of Redken's Blonde Idol Professional Haircolor Collection, comes four NEW!  Blonde Idol Professional Haircolor Collection High Lift shades and Redken's first-ever Free Hand Creamy Lightener, making it easiest than ever to find the perfect blonde that fits your lifestyle.
Tracey Cunningham is a top celebrity colorist and the owner of Meche Salon in Los Angeles. Tracey is also an inspiration on how you can take any profession to the next level and to just always think big. How many times do you see hair colorists just use one hair color all over and you get that very dull lifeless color. Well Tracey proves that to be a hair colorist is to be an artist. I had the luxury to get the scoop straight from Tracey Cunningham on how she she brought Kim back to brunette and gave Lily Aldridge her glossy locks.
KIM KARDASHIAN:
How To Get Kim Kardashian's Hair Color
"Bringing Kim back to brunette was something I wanted to do little by little, so that we made sure to keep her dimension and not end up all over one color or inky. Also so that we could evaluate the color each time and make sure it never went too dark too fast. Another benefit to the step by step approach is that this way, the end result would last longer. So the first time she came in to go darker I low lighted her and did a darker root, from that point on we just glossed her with Redken EQ shades each visit with something slightly darker until we ended up with the desired shade. This gave us more control and was very gentle on her hair. In the end she was back to brunette but still has dimension in her color rather than looking too solid."
LILY ALDRIDGE:
"For Lily, I like to do fine highlights at the root then balayage bigger pieces on her ends. After that I do a darker gloss at the root and something warm all over. I want her to have swirls of lightness and warmth throughout but still look natural. The gloss at the root is essential to diffuse the look of a traditional highlight."
To get the hair color formulas make sure to follow  Tracey Cunningham on Instagram.
Check out the hottest haircolor formulas from the 2014 Oscars. Tracey Cunningham's used  Redken color.
Jessica Biel
NATURAL LEVEL: 4, Medium Brown
BASE FORMULA:
2 oz. 5WB Golden Hazel Shades EQ Cream
2 oz. 10 vol. Pro-oxide Cream Developer
HIGHLIGHT FORMULA:
1 scoop Flash Lift Maximum Lightening Powder Lightener
1 oz. 20 vol. Pro-oxide Cream Developer
GLAZE FORMULA:
1/2 oz. Crystal Clear Shades EQ Gloss
1 1/2 oz. 09NB Irish Cream Shades EQ Gloss
2 oz. Shades EQ Processing Solution
Camila Alves
NATURAL LEVEL: 3, Dark Brown
HIGHLIGHT FORMULA:
1 scoop of Up to 7 De-Dusted Powder Lightener
1 oz. 20 volume Pro-oxide Cream Developer
GLAZE FORMULA
1/2 oz. 08GG Gold Dip Shades EQ Gloss
1/2 oz. 09AA Papaya Shades EQ Gloss
1/2 oz. 08C Cayenne Shades EQ Gloss
1 1/2 oz. Shades EQ Processing Solution
Naomi Watts
NATURAL LEVEL: 6, Dark Blonde
HIGHLIGHT FORMULA:
1 scoop of Flash Lift Maximum Lightening Powder Lightener
1 oz. 20 volume Pro-oxide Cream Developer
GLAZE FORMULA:
1 oz. Crystal Clear Shades EQ Gloss
1 oz. 09V Platinum Ice Shades EQ Gloss
2 oz. Shades EQ Processing Solution
Want Oscar-worthy haircolor? Visit Redken.com to find a salon near you!
2014 OSCARS AWARDS: TRACEY CUNNINGHAM'S RED CARPET COLOR FORMULAS
Located in the heart of Beverly Hills, Mèche has quickly become LA's premier full-service salon. Founded by hair industry legends Tracey Cunningham (formerly of Byron & Tracey) and Neil Weisberg (formerly of Neil George), Mèche's service list includes everything from expert cuts and blowouts to base color, highlights, extensions and a range of treatments, Mèche also offers manicures, pedicures, brow and lash services, and makeup application.
What truly sets Mèche apart, however, is its ultimate dedication to its clients and their needs. Tracey and Neil are on the floor each and every day, along with their skilled, eclectic collection of stylists and colorists, ensuring services of the utmost quality for all patrons. Having carefully selected a team of stylists and colorists from the area's top salons, Neil and Tracey have curated a veritable who's who of the industry's best and brightest. (via: Mèche)
Celebrity Hair Trends. Get Cameron Diaz' hair color as seen on the cover of Harper's Bazaar August 2010.
Looking to achieve that glamorous blonde hair color that Cameron Diaz sports on the cover of Bazaar (August issue)? Tracey Cunningham, Redken Creative Consultant for Color and Hollywood colorist, helped Cameron Diaz look stunning for the Cover shoot with Redken color. If you're looking for Cameron's color, ask your colorist for the following formulas:

Photo by Terry Richardson for Harper's Bazaar
Apply equal parts of Shades EQ 09AA Papaya, 09G Vanilla Crème and ShadesEQ Processing Solution. For added dimension, add highlights with Redken Blonde Icing Ammonia Free Conditioning Crème Lightener. Concentrate the Highlights closer around the face and diminishing in the back. Finish with a glaze of Shades EQ 000 Crystal Clear for extra shine.
Tracey Cunningham, Redken Creative Consultant for Color, colors Lindsay Lohan for the April 2009 issue of Nylon Magazine. 
To achieve Lindsay's cover look, Tracey Cunningham customized a formula using Redken Shades EQ Equalizing Conditioning Color Gloss 09AA Papaya, 08C Cayenne and 09G Vanilla Crème.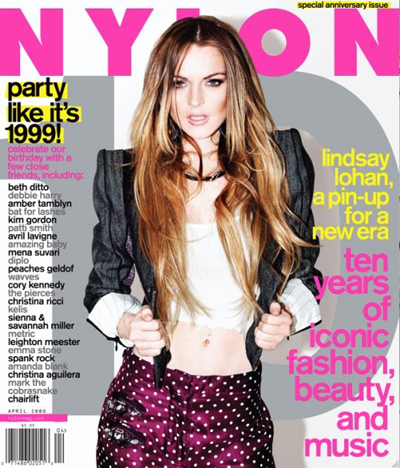 REDKEN SHADES EQ is the #1 long-lasting, no-lift, non-ammonia, demi-permanent haircolor in the U.S., and has won BehindTheChair.com's Stylist Choice Award for the past seven years. It is one of the most versatile haircolor brands colorists can use – it provides healthy, shiny results, incredible conditioning with an amazing number of mixing possibilities. Shades EQ is used as a glaze, color refresher, and also color correction.
If you have a question for Tracey, visit her Expert page and your question could be selected as Tracey's Question of the Month! – www.redken.com/whats-hot/ask-the-experts/tracey-cunningham
Lindsay Lohan graces the Cover of Harper's Bazaar Magazine December 2008 issue.
Are you wondering how to achieve Lindsay Lohan's beautiful haircolor on the December 2008 cover of Harpers Bazaar? Tracey Cunningham, Redken Creative Consultant for Color, is the mastermind behind creating this rich, warm haircolor result and shares the key shades she used to achieve Lindsay's haircolor.
Watch Lindsay Lohan behind the scene of her cover photo shoot for Harper's Bazaar December 2008 edition:
Tracey used Redken Shades EQ Equalizing Conditioning Color Gloss 08C Cayenne, 09G Vanilla Crème, 09AA Papaya. Shades EQ Equalizing Conditioning Color Gloss is the #1 long-lasting, no-lift, non-ammonia, demi-permanent haircolor in the U.S.,