All Posts Tagged With: "OPI Mail Lacquer"
Makeup artist and photographer, Troy Jensen, photographed and did Khloe Kardashian's makeup for the PETA Campaign.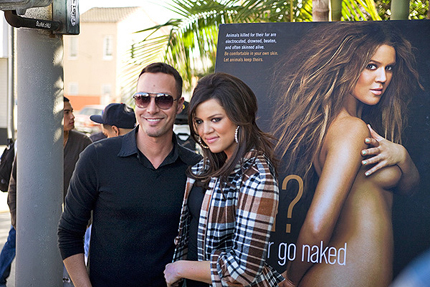 Troy Jensen and Khloe Kardashian.
From Troy  Jensen's website I can tell that Troy also photographed and did makeup for Kim Kardashian, and Kourtney Karadshian aka the Kardashian sisters:)
How to get Khloe Kardashian's Makeup Look by Troy Jensen:
My idea for Khloe's look for the PETA campaign was to embody the inner wild child that she is, still being approachable, sexy, and beautiful. It was all about gorgeous sun-kissed skin and wild hair. To get the look, I called on two other professionals in my field. One, spray-tan Guru Jimmy Jimmy Coco, who bronzes up Hollywood's top beauties – Victoria Beckham and the Pussycat Dolls, to name a few. I also called upon my long-time friend and colleague, celebrity hair-dresser, Frankie Payne, to create Khloe's wild textured hair-style.
We also wanted to incorporate Khloe's awareness for the environment by incorporating a touch of green ("Green is in").
OPI Mail Lacquer – Gargantuan Green Grape.
For behind the scenes photos of Troy Jensen with Khloe, check out Khloe Kardashian's blog.