Estee Lauder's Brightest Stars Featured on Newly Redesigned Website www.esteelauder.com !
Get to know their models – Gwyneth Paltrow, Elizabeth Hurley, Carolyn Murphy and Hilary Rhoda.
Starting now, you can bring Estée Lauder's iconic spokesmodels – Gwyneth Paltrow, Elizabeth Hurley, Carolyn Murphy and Hilary Rhoda – into your home! They are all featured on the new esteelauder.com website.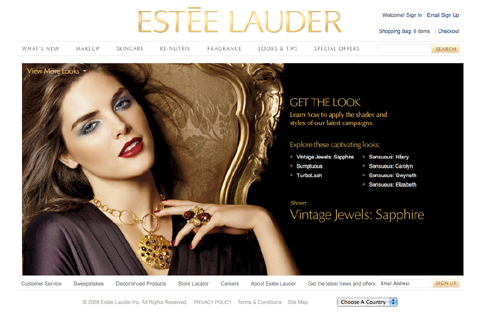 From personal profiles, their current beauty must-haves and behind-the-scenes images, take an inside look at each model from Estée Lauder advertising shoots. You can also learn exactly what makeup looks they are wearing in the ads and get tips on how to apply the products at home to replicate the look.
New features available on the Estée Lauder website include:
New Layout – New intuitive product groupings make it easier for you to find the products you are looking for, while detailed product information, enhanced product images and application/use tips help to simplify the product selection process.
Skincare Finder – Mrs. Estée Lauder often said "it is important to take care of your skin. It is the only one you'll have." Now with just a few quick clicks of the mouse, Estée Lauder has made finding an appropriate skincare regimen easy with its new Skincare Finder interactive diagnostic tool. Using a step-by-step series of questions to analyze individual skincare concerns, the Skincare Finder recommends a tailored skincare regimen to address those concerns. Additionally, you can find links to expert tips for creating and maintaining great skin.
Foundation Finder – When it comes to shopping for makeup online, selecting the right foundation can sometimes be a challenge. The new, interactive iMatchTM Foundation Finder helps you find your ideal match through a series of simple steps that assess their skin's intensity, undertone and type, as well as individual coverage preference. Once the right shade is identified, the site also provides application tips from the pros, making it possible to achieve a flawless face every time.
Instructional Videos – Step-by-step instructional videos have been added to the site to help make it easy for you to create different makeup looks for everyday. Estée Lauder beauty advisors educate viewers with tips and tricks for creating a flawless face, such as smoky eyes, sculpted cheeks, classic lips and more.
In addition to these useful tools, you can access Estée Lauder's award-winning customer service via phone, e-mail or live chat, giving you the opportunity to communicate in real-time with an Estée Lauder beauty advisor for personalized service and recommendations – just as you would at any Estée Lauder Counter.
"These new online tools help us to provide the consumer with a seamless experience from the website to the counter," said Elana Drell Szyfer, Senior Vice President, Global Marketing, Estée Lauder. "Many of our customers are now searching for product information or shopping online and these numbers continue to grow. We want to ensure that no matter where our customer chooses to shop for our products, she is able to get the information and support she needs to make the best choices."
Experience the new www.esteelauder.com  today!