I'm so excited about introducing to you to Lauren Luke, a self-taught makeup guru watched by 39 million on her YouTube channel. I've been watching some of Lauren's videos as well and this girl is just incredibly talented makeup artist. Lauren Luke's story is just so inspirational and teaches all of us to do what you love and the rest will follow! Needless to say, I'm a fan:)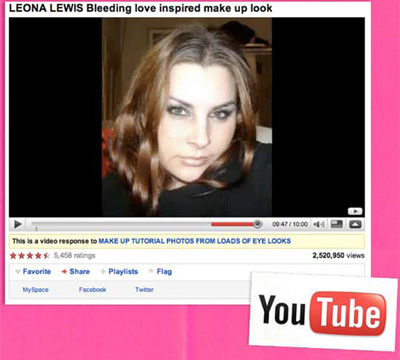 Lauren Luke was called "The World's Most Popular Makeup Artist" by the BBC, her new color cosmetics line — By Lauren Luke launches on April 27th.
By Lauren Luke makeup line includes five full-face palates with shades hand-picked by Lauren and tutorials meant to maximize the kit's value and glam quotient. It will be sold exclusively on her website: www.ByLaurenLuke.com
Lauren's story, though just beginning, is a thrilling one:
-39 million views of her video tutorials

-The UK's #1 YouTube Channel
-A recent 30 minute BBC documentary on her story
-A starring role in a new Nintendo DS game about to be launched
-Appearances to date include CBS, Vanity Fair, Elle, Look Magazine and Radio 1
-A book deal with Hodder set to release this fall
-And even meet and greet with the Queen of England!
Growing up in the proud yet humble English town of South Shields, Lauren posted her first tutorial on YouTube just 18 months ago. The 27-year-old single mother started posting the videos to enhance her gig selling makeup on Ebay – an opportunity she seized so she could quit her job as a taxi dispatcher and spend more time with her then 9 -year-old son, Jordan.
Lauren never had many girlfriends growing up but has found a wealth of new ones on YouTube, Twitter, Facebook and Myspace. She's in daily contact with them, whether posting a new video or just catching up. Her goal in life? Simply, "I just want to make people feel special and happy."