All Posts Tagged With: "Lauren Luke"
Sephora celebrates the opening of it's second Times Square Store: Adrienne Bailon, actress and singer-songwriter, Alexandra and Theodora Richards, models and rock royalty, Lauren Luke, makeup maven and YouTube glamour gal, the Sephora PRO Beauty Team, along with a who's who of the beauty, fashion and entertainment worlds, celebrate the grand opening of Sephora 5 Times Square.

Get your gorgeous game face on – opening day events will include a Sephora Square Takeover where beauty buffs are invited to participate in two glamorous GUINNESS WORLD RECORDS taking place.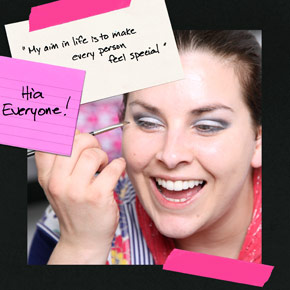 By Lauren Look for Sephora
Whether you want to participate in setting the GUINNESS WORLD RECORD for the Most Lipstick Applications by an Individual in One Hour, or help break the GUINNESS WORLD RECORD for the Most Cosmetic Makeovers by a Team of Five in One Hour, stop by the ultimate beauty playground for some fabulous fun.
When: Friday July 31, 2009
Events throughout the day from 9am – 5pm including:
I'm very excited to bring to you an interview I did with Lauren Luke YouTube's makeup tutorials guru who has been watched by 39 million viewers!
Lauren Luke interviewed with me for Talking Makeup's celebrity beauty section: www.beautyinterviews.com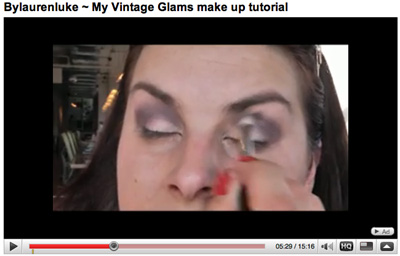 Lauren Luke is a self-taught makeup guru watched by 39 million on her YouTube channel.
Growing up in the proud yet humble English town of South Shields, Lauren posted her first tutorial on YouTube just 18 months ago. The 27-year-old single mother started posting the videos to enhance her gig selling makeup on Ebay – an opportunity she seized so she could quit her job as a taxi dispatcher and spend more time with her then 9 -year-old son, Jordan.
Lauren Luke was called "The World's Most Popular Makeup Artist" by the BBC, her new color cosmetics line By Lauren Luke launched on April 27th, 2009 and the rest is history.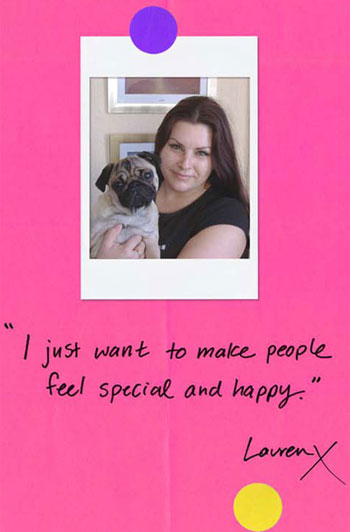 In this interview Lauren Luke talks to Marta Walsh about how it all began for her with makeup. Her New Makeup line: By Lauren Luke and the inspiration behind it. Her feelings about becoming famous. Her philosophy about beauty and future plans.
Marta Walsh: When did your fascination with makeup begin? Did you ever have a formal training in makeup?
Lauren Luke: It started when I was 13. I wanted to be a bit prettier at school to fit in. I was inspired by Bob Ross who is a painter. Because I love color, I attached to it quickly. I never had any formal training.
Talking Makeup is thrilled to introduce to you By Lauren Luke, the queen of makeup tutorials Lauren Luke's makeup line.
By Lauren Luke is launching with five distinct full-face color palettes. Each kit includes three eye shadows, an eye primer, two lipsticks, one blush, and of course, the perfect deep black eye liner.
By Lauren Luke makeup lines launches exclusively on www.bylaurenluke.com on April 27th! The Kit retails: $32.40 US, 23.99 UK Pounds.
"I just want to make people feel special and happy."-Lauren Luke.
By Lauren Luke My Fierce Violets:
Shadow Primer-nude slip light
Shadow Primer-nude slip dark
Eye shadow-crushed lilac
Blush-sepia rose
Eye Liner-raven black
Eye Shadow-turkish night
Eye shadow-porcelain dust
Lip Colour-sheer berry
Lip Colour-cherry whip
I'm so excited about introducing to you to Lauren Luke, a self-taught makeup guru watched by 39 million on her YouTube channel. I've been watching some of Lauren's videos as well and this girl is just incredibly talented makeup artist. Lauren Luke's story is just so inspirational and teaches all of us to do what you love and the rest will follow! Needless to say, I'm a fan:)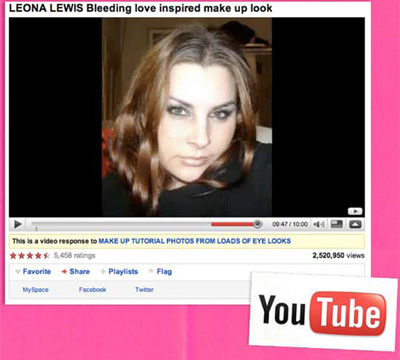 Lauren Luke was called "The World's Most Popular Makeup Artist" by the BBC, her new color cosmetics line — By Lauren Luke launches on April 27th.
By Lauren Luke makeup line includes five full-face palates with shades hand-picked by Lauren and tutorials meant to maximize the kit's value and glam quotient. It will be sold exclusively on her website: www.ByLaurenLuke.com
Lauren's story, though just beginning, is a thrilling one:
-39 million views of her video tutorials