Here is a list of holiday must-haves from Victoria's Secret Beauty:
Introducing At Home by Victoria's Secret, a home fragrance collection. At Home features three sophisticated, limited-edition scents inspired by wintry woods and lush Mediterranean orchards. And with six beautiful products, you can enjoy them in any living space. Go ahead, live in luxury.
The Scents:
Mandarin Woods: An invigorating mix of Mandarin and Alpine greens filtered through chilled winter air.
Vanilla Orchid: A comforting blend of creamy Vanilla and Orchid wrapped in the warmth of soft Musk.
Cashmere Fig: An earthy combination of Fig and Cashmere Woods on a bed of crushed green leaves.
The Products:
Gentle Hand Soap: Conditioning Shea Butter and Aloe make this liquid hand soap a gentle cleansing experience. 6.7 oz. $15.
Softening Hand Lotion: A trio of exotic butters-Shea, Mango and Indian Mowrah-combine with Vitamin E to create this soothing lotion. 6.7 oz. $18.
Scented Candle: Premium natural wax candle features a lead-free wick to promote a purely fragrant burn.
Burn time: up to 60 hours. 10.5 oz. $28.
Reed Difuser: Elegant reeds draw and diffuse scented oil, filling any home with fragrance within 36 hours.
5.9 oz. $28.
Room Spray: Delicate spray fills any room with lasting fragrance. 1.7 oz. $12.
Triple-milled Soap Trio: Moisturizing Shea Butter enriches our triple-milled pure vegetable soaps from Vermont. Creates a luxe lather to cleanse and soften. Includes all three At Home scents: Mandarin Woods, Vanilla Orchid and Cashmere Fig. $28.
Victoria's Secret Beauty-Beauty Rush Holiday: Take a sweet snow day with Beauty Rush Holiday. Inspired by classic holiday treats, this limited-edition mix of irresistible scents and flavors for body and lips comes in beautifully icy shades and finishes. Perfect for wrapping up, and chilling out.
Three frosty scents:
Snow plum: A sugar-frosted mix of juicy plums.
Winterberry: A giddy pop of sparkling berries.
Spicee Apple: A spiced melt of warm, crisp apple.
Six delicious products:
Body Double Mist
Two layers of skin conditioners and fragrance combine for soft, scented skin. 8.4 oz. $12.
Body Drink Lotion
Natural skin conditioners make for a soft, moisture-drenched body. 6.7 oz. $12.
Body Glim er Swirl Cream
ProVitamin B5 and Shea Butter quench skin with shimmering moisture. 5 oz. $12.
Hand Cream
Fortified with moisturizing Shea Butter and Vitamin E. 2.5 oz. $8.
Body Shimer Kissable Powder
Sweet, kissable shimmer to highlight skin. $10.
Lip Glos Swirls
Superfine swirl and high-impact shine. $7.
Victoria's Secret Beauty-Beauty Rush Mascaras in Black, Blue, Purple, and Brown:
Victoria's Secret Beauty Best of Beauty Box, $75: What do you get for the woman who has everything? Only the best, of course.
This Best of Beauty Box is home to nine of our favorite lotions, potions and scents:
Dream Angels Heavenly Eau de Parfum, .25 oz.
Bare Bronze Daily Glow Body Moisturizer in Light to Medium, 1 oz.
Very Sexy Mosaic Bronzer in Gilded
Victoria's Secret Pink Body Drenched in PINK Supersoft Body Lotion in Fresh & Clean, 1 oz.
Very Sexy Lip Gloss in Wet
Beauty Rush Lip Gloss in Strawberry Fizz
NEW Dream Angels Wish Eau de Parfum, .25 oz.
Very Sexy Silky Eye Shadow in Fierce
Very Sexy High-definition Mascara in Blackest Black
Victoria's Secret Deluxe Fragrance:
Victoria's Secret Beauty The Ultimate Rush: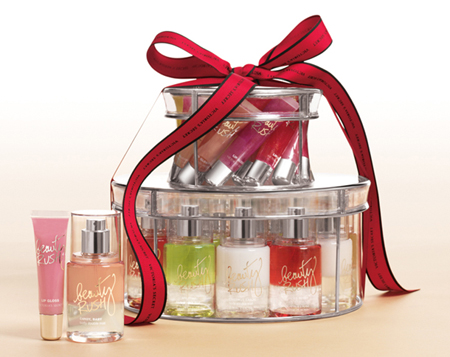 Victoria's Secret Beauty Little Black Box:
Victoria's Secret Beauty Very Sexy Fragrance: