All Posts Tagged With: "Coty"
Oscar winner Halle Berry has developed her first fragrance: Halle by Halle Berry.  Berry, who was reportedly "mixing her own" blends prior to developing her signature fragrance, says the new fragrance is "a real, true expression of who I am".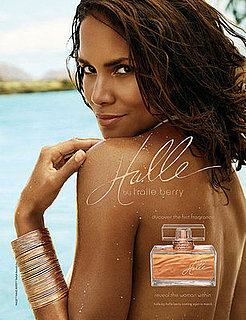 Halle by Halle Berry Perfume ia a woody oriental type of fragrance. Halle collaborated on with Coty, and the perfume is scheduled to hit shelves early March 2009.
Halle by Halle Berry perfume main notes are: mimosa and fig essences. Additional notes include bergamot, pear blossom, freesia, hibiscus, ultra mimosa, sandalwood, driftwood, cashmere musk, olibanum and sensual amber. Halle by Halle Berry will be available in 15, 30 and 50 ml Eau de Parfum and in matching body products.
via: Now Smell This
The iconic unisex fragrance ck one will relaunch later this month with a NEW television and print ad campaign (shot by the legendary Steven Meisel), a beautiful song written by British musician and model Jamie Burke and a special, limited edition fragrance bottle packaged with an mP3 speaker.
About ck one Relaunches with Inaugural Campaign via Women's Wear Daily:
by JULIE NAUGHTON
Posted FRIDAY JANUARY 09, 2009
From WWD ISSUE 01/09/2009
Calvin Klein plans to bring new attention to its CK One franchise with a new TV campaign to be launched Jan. 20. Not coincidentally, it's the same day President-elect Barack Obama will be inaugurated.
"The CK One 'We are one' campaign is inspired by a social movement of people coming together in the spirit of unity," said Catherine Walsh, senior vice president of American fragrances for Coty Prestige, noting the campaign's centerpiece is a song commissioned from British musician Jamie Burke – who appears in the print and TV ads for this campaign, as well as two Calvin Klein Jeans spots. "There is such a natural synergy between the message of the campaign and the essence of our new president's platform that it seemed the ideal moment to share the TV spot. The campaign – and its original song – give voice to an optimistic new generation, that certainly made its voice heard in the latest election. This is a celebration of the power of coming together as one."
Karl Lagerfeld will launch Kapsule, a trio of mix 'n match unisex fragrances, this coming November.
It is Lagerfeld's first fragrance project under new licensing arrangements with Coty; a company representative noted that: Lots of people are doing three fragrances, but only at an expensive price, as a limited edition. Here, the idea was to say we will propose a capsule wardrobe of fragrances…at a price that is in line with the market. 
Kapsule Light was developed by perfumer Mark Buxton, and has notes of bitter orange, jasmine, nutmeg, clove and musk.