All Posts Tagged With: "Fusion Beauty"
Another great lipgloss find of the week is: Lip Fusion Infatuation Lipgloss in La Lip Jolie a sheer natural baby pink shade. I'll be honest with you I've tried the original Lip Fusion Color Shine and I never got along with it because it tingled too much to a point of a headache and the color payoff was not there, it turned to a clear gloss on my lips. On my recent trip to ULTA however I was happy to discover a different lipgloss collection by Fusion Beauty called: Lip Fusion Infatuation. Needless to say love from first gloss LOL. It tingles but not as much, not too strong. It has a brush application and the color pigment is much bolder. Another plus: it's long lasting and not greasy. Does it plump? As I mentioned before my lips are naturally full so I can't never tell. My lips do look smooth and pretty so what's not to like:)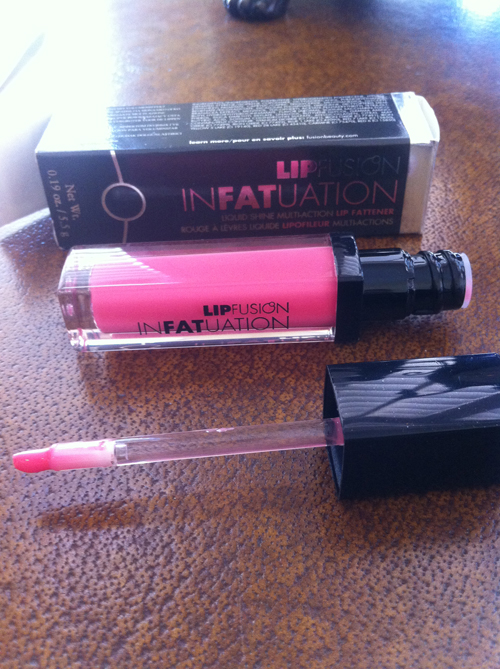 Lip Fusion Infatuation Lipgloss in La Lip Jolie
Great new products from Fusion Beauty: Fusion Beauty LashFusionXL, StimuLashFusion, & PureFusion.
LashFusion XL Micro-Technology Instant lash Volumizer: A creamy mascara that conditions and lengthens lashes for dramatic effects. Fusion Beauty LashFusion XL Micro-Technology Instant Lash Volumizer delivers bold, healthy, voluptuous lashes.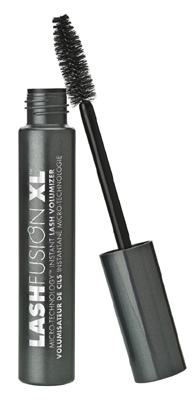 This rich formula includes a naturally emollient resin to encourage curl, and comes with a large brush that makes an impact in just one coat.
Full and pouty lips are undeniably beautiful and super sexy. Looks like the new LipFusion Beach Baby-Bling Fusion Lip Plump may get us just a bit closer to that very desired plumped lips look: think Kim Kardashian.
LipFusion Beach Baby-Bling Fusion Lip Plump is a limited-edition, crystal-covered color shine in Beach Baby, a just-off-the-beach sexy flush of seashell pink. LipFusion revolutionary patented dehydrated collagen micro-spheres absorb into the lips, seek out the body's natural water, then immediately rehydrate to plump and smooth.
By FusionBeauty. SRP: $49.
Talking Makeup has the scoop to Access Hollywood's Maria Menounos look from the 15th annual Race to Erase MS red carpet extravaganza.
The theme of the red carpet event was old Hollywood and with that in mind, Celebrity Makeup Artist Bret Boreman took his inspiration from the icon's of the 1960's and created a modern day "Glam Goddess" on Maria. "I took old Hollywood, and gave it a modern twist," says Boreman.

Maria Menounos.
"I wanted the look to have fresh, dewy skin with a stained red lip. To do this, I colored the lips using a red pencil, then with my index finger, I pressed the color lightly giving the lips raspberry red, stained appearance. For the skin, I combined a moisturizer with Stila All Over Shimmering Illuminizer, massaging it into the skin, followed by foundation. This three-product combination; moisturizer, illuminizer and foundation conceals, protects and makes skin shimmer for a modern take on a classic look."
To get this look Boreman used:
Victoria's Secret Very Sexy Makeup Flawless Cream Makeup.
Stila Eye Shadow: Moonlight.
Victoria's Secret Very Sexy Makeup Liquid Liner Pen: Blackout.
Stila Mascara: Major Lash: Jet Black.
Victoria's Secret Very Sexy Makeup Mosaic Blush: Wild Child.
Lip Fusion Lip Plumping Pencil: Red.
 
Now your favorite LipFusion Color Shine lipgloss by Fusion Beauty has two new hot fall shades Ripe and Belle.  These sheer juicy reds deliver LipFusion's award winning plumping power with the season's hottest fashion statement-red hot lips!  LipFusion in Ripe is a sheer natural juicy berry.  LipFusion in Belle is a sheer shimmering rosy brick.
According to Fusion Beauty's product expert, Heather Boswell: "there is no better way to a punch of sexy color to your wardrobe and a perfect pout to your lips…and both of these versatile reds are so sheer and subtle anyone can wear them." (Source: Fusion Beauty press release).  Cost: $38.
New at Fusion Beauty is GlowFusion Micro-Tech Intuitive Active Bronzer.  Formulated by Fusion Beauty exclusive M-Tox technology that instantly smooths and fills fine lines and wrinkles, firms and lifts your skin. 
 Also in GlowFusion Micro Tech Intuitive Active Bronzer by Fusion Beauty is a an InvisiSkin complex with soft-focus luminizers and brightening pigments that will give you a flawless natural and sheer bronze color.  Comes in 3 shades: Golden, Sunshine, Luminous.  Cost: $39. 
Looking for an easy way to get a totally seamless, sunless, sexy, head-to-toe tan.  Now you can with the first and only at-home airbrush gun Glow Fusion Airglow Airbrush Gun.  How it works: Glow Fusion Airglow Airbrush Gun blows out a sheer, vapor-light, even mist of tinted Glow Fusion Micro-Nutrient Protein Tan that dries on contact. No need to smooth, spread or touch. 
The benefits:  This revolutionary self-tanning gun by Fusion Beauty delivers an even and all-over glow. Multi-angle applicator offers a professional, even airbrush application at your home all year round!  The Glow Fusion Airglow Airbrush Gun kit includes: gun, funnel, charger/adaptor and 4 oz. bottle of the tinted formula.  Cost: $175. 
New at Fusion Beauty is GlowFusion Micro-Nutrient Face and Body Natural Protein Tan.  GlowFusion is a self-tanning mist that delivers a perfect shade of sun-kissed glow.  If you are tired of smelly and messy tanning lotions then this self tanning mist is made for you.  It is clear, fast drying, odor-free, streak free and doesn't  stain your clothes.  All you  get is a sexy tan.  All these qualities are possible thanks to a micro-nutrient technology that gives you a potent blend of vitamins and powerful antioxidants to boost your skin's appearance. Created with a pure, natural sugarcane-derived formula to work with your skin's natural keratin proteins to create a fabulous glow.  GlowFusion is clear and dries immediately and evenly.
The good news is GlowFusion lasts up to two weeks, it is dermatologist tested, non-comedogenic and suitable for all skin types.  GlowFusion is available in two formulas: light and medium.  Cost:  $58 for 5 oz.  Fusion Beauty was created by Randi Shinder who came out with a safe and effective alternative to collagen injections to make your lips full and sexy.  This is how LipFusion was born in 2005, the first needle-free, Topical-Injectable.