Now Beauty.com brings Eve Lom skincare closer to your home – no matter where you live! Finally, you have the opportunity to buy the once hard-to-find spa brand right at your fingertips on Beauty.com.  
This coveted international beauty secret is currently available stateside and is ready to ship with just a few clicks of the mouse. Beauty.com is known for bringing the best brands together in one site and Eve Lom adds to this all-star beauty lineup.
ABOUT EVE LOM:
In 1984, the first Eve Lom salon opened in London. For Eve, the minimalist regime she recommends works for all skin-types and places a strong emphasis on cleansing and exfoliation. The Eve Lom skincare range evolved from her cult Cleanser, which Vogue called "probably the best cleanser in the world." The pared-down regime Eve recommends is based on the philosophy that less is more when it comes to effective skincare.
PRODUCTS:
· Cleanser – contains a unique blend of four aromatic oils with cleansing, decongesting and soothing properties. Price: $95 for 3.3 fl oz, $160 for 6.8 fl oz
· Rescue Mask – use weekly or daily to help reduce blotchy skin and minimize irritated and erupted conditions. Price: $65 for 1.6 fl oz, $110 for 3.3 fl oz
· TLC Cream – perfect blend formulated to help to protect the skin, based on the exclusive and fragrant oil of rose (Otto of Bulgaria). Price: $95
· Moisturiser + SPF 15 – anti-oxidant extracts of red, green and white tea, chestnut and rosemary, along with UV filters, help protect skin against environmental damage and blends smoothly into skin. Price: $80
· Day Cream – enriching treatment that helps to improve the suppleness, smoothness and general condition of the skin. Price: $70
· Eye Serum – use morning and evening to help to soothe tired, puffy eyes and dark circles; aids in the hydration of the delicate eye area. Price: $60
· Crème Universelle – mixture of wholesome and natural oils for dry, mature or atrophic skins; perfect for dry skin patches on arms, legs and feet. Price: $48
· Dynaspot – helps to speedily dry out spots whilst soothing, and improving the complexion with fennel, chamomile, and tea tree oil extracts. Price: $38
· Hand Cream + SPF 10 – prevents first signs of damage with skin brightening salicylic acid, kokum butter, and edelweiss extract. Price: $35
· Cuticle Cream – veritable cocktail of intensive plant-based moisturizers, regenerative and protective waxes, anti-oxidant vitamins A and E, and anti-microbial copper to help to promote healthy nail growth and perfectly conditioned cuticles. Price: $28
· Kiss Mix – rich glossy treatment that helps to moisturize and protect tender lips; use on its own or over lipstick for added allure. Price: $25
· Muslin Cloth – Extra package of three muslin cloths to remove Eve Lom's modern cult classic cleanser.
KITS:
· Essentials Kit – This gift set comprises all of Eve's favorite cleansing products: Cleanser, Rescue Mask and Kiss Mix lip balm. Price $195
· Skincare Classic – All you need for a healthy, radiant complexion every day: Cleanser and Moisturiser + SPF 15. Price: $165
· Starter Collection – This tin contains everything you need to start on Eve's renowned skincare regime: samples sizes of the Cleanser, Rescue Mask and Moisturiser + SPF 15 plus one muslin cloth. Price: $50
Never before has such exclusive glamour been so attainable. Now BeingTRUE, the spa brand that combines the best of nature with the best of science, can now be purchased online. Take advantage of the convenience of purchasing the latest launches from BeingTRUE, Transforming Skin-Tint, Arch Rival and Hy-Performance Mascara, in the comfort of your own home. Let these three long last, breakthrough products reveal your greatest self, without a trip to the spa.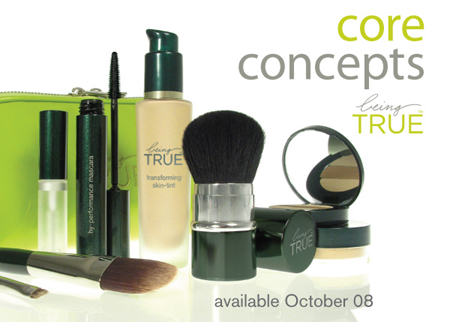 BeingTRUE Transforming Skin-Tint: Ready for a little magic? This liquid foundation instantly transforms stressed skin back to its youthful, even-toned complexion, while age defying benefits keep it protected. An elixir of luxe minerals and essential vitamins including Rhodochrosite Extract, Malachite Extract, Hyaluronic Acid and Vitamin E keep the skin looking visibly firm and feeling smooth. This paraben-free miracle worker is ideal for normal to dry skin and is available in 6 shades leaving skin aglow in sheer to undetectable coverage. Wear it alone or use as a primer under mineral foundation for added benefits. Price: $48.00 at TrulyNatural.com or TrueCosmetics.com for spa retailers nationwide.
BeingTRUE Arch Rival – Brow Defining Essentials: Achieving beautiful, shapely brows has never been so easy. This brow-enhancing kit will brighten your face and highlight your eyes. Arch Rival includes the brow definer compact complete with a tinted brow wax for sparse areas and two brow defining pigments for custom color. The Brow Definer Brush guarantees precise application and the Finishing Brow Gel helps to set. The kit is available in 3 shades: blonde, auburn and brunette. Price: $68.00 at TrulyNatural.com or TrueCosmetics.com for spa retailers nationwide.
BeingTRUE Hy-Performance Mascara: Experience the latest technology in mascara for maximum volume, length and curl. The stellar performing HYTREL brush offers the ultimate in lash separation and elongation while the conditioning, humidity resistant and flake free formula keeps your lashes looking long and thick. This paraben-free mascara comes in the richest shade of glossy black – obsidian. Price: $22.00 at TrulyNatural.com or TrueCosmetics.com for spa retailers nationwide.