MTV's The Hills' Lauren "Lo" Bosworth Gets a Boost at the John Frieda See for Yourself Salon.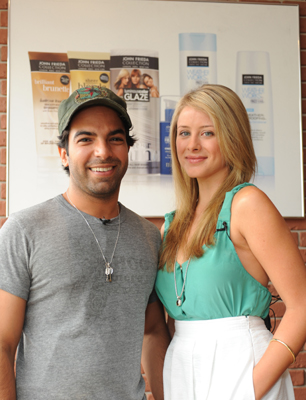 Lo Bosworth and Harry Josh.
To get her hair camera-ready, Lauren "Lo" Bosworth from MTV's hit show The Hills stopped by the John Frieda See for Yourself Salon, where the top stylists behind editorial shoots and celebrity hairstyles are transforming real women's hair before their eyes. At the tour's Venice Beach stop on July 28th, Lo sat down with Harry Josh, hair guru and Creative Consultant for the John Frieda Collection, to talk about what she could do at home to get a volume boost.

Lo Bosworth Gets a Boost.
Harry Josh's Volumizing Tips:
Tip 1 – Volume Starts at the Roots: "Products make all the difference when building volume, so use a formula that creates lift when building volume at the roots." Harry informed Lo. "I start by prepping hair with John Frieda Luxurious Volume Full Splendor Shampoo and Conditioner, then spray the roots with John Frieda Luxurious Volume Lavish Lift Root Booster before blow drying."

John Frieda Luxurious Volume Product line.
Tip 2 – Don't Weigh Down the Hair: "Don't put product all over your hair, because it will weigh it down," Harry states. "Just use a little bit at the roots to lock in volume. You can also turn your head upside down and blow dry it to get extra lift."
The John Frieda See for Yourself Tour is making two more stops – Denver on August 2nd and Dallas on August 6th. Log onto www.johnfrieda.com to book your appointment. But if you can't make it to the salon, don't worry-the Luxurious Volume Collection is available at drugstores nationwide.