All Posts Tagged With: "Lauren Lo Bosworth"
Thanks to AVON and its Beauty Breakthrough Tour you can find out Lauren "Lo" Bosworth's wish.
The Avon Beauty Breakthrough Tour is heading across the country, beautifying cities inside and out at every stop. Now in it's 7th year, The Beauty Breakthrough Tour brings Avon's unique combination of beauty and technology to women while challenging communities to join forces and raise funds for their local domestic violence agency.
Celebrities like Callie Thorn of FX! Network's Rescue Me; Keisha Whitaker, model/actress and wife of the Academy Award Winner Forrest Whitaker; Lauren "Lo" Bosworth, star of the hit MTV series, The Hills have all done their part by signing their own Wishing Wall Cards. The cards will be on view at every city stop.
MTV's The Hills' Lauren "Lo" Bosworth Gets a Boost at the John Frieda See for Yourself Salon.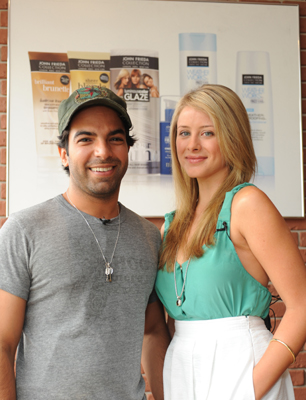 Lo Bosworth and Harry Josh.
To get her hair camera-ready, Lauren "Lo" Bosworth from MTV's hit show The Hills stopped by the John Frieda See for Yourself Salon, where the top stylists behind editorial shoots and celebrity hairstyles are transforming real women's hair before their eyes. At the tour's Venice Beach stop on July 28th, Lo sat down with Harry Josh, hair guru and Creative Consultant for the John Frieda Collection, to talk about what she could do at home to get a volume boost.

Lo Bosworth Gets a Boost.
Harry Josh's Volumizing Tips:
Tip 1 – Volume Starts at the Roots: "Products make all the difference when building volume, so use a formula that creates lift when building volume at the roots." Harry informed Lo. "I start by prepping hair with John Frieda Luxurious Volume Full Splendor Shampoo and Conditioner, then spray the roots with John Frieda Luxurious Volume Lavish Lift Root Booster before blow drying."

John Frieda Luxurious Volume Product line.