All Posts Tagged With: "Kiehl's"
The latest philanthropic news: Kiehl's has created a limited edition Ultra Facial Cream designed by Matthew McConaughey. His vibrant design features uplifting colors and geometric shapes, including interlocking puzzle pieces – a nod to the iconic Autism Speaks blue puzzle piece. Each limited edition #KiehlsxAutismSpeaks Ultra Facial Cream ($47.50) purchased will help to provide resources for children and families living with autism worldwide. Kiehl's total worldwide donation to Autism Speaks is $200,00
Couple of weeks ago I had the luxury meeting Chris Salgardo who is currently president of the Kiehl's Since 1851 brand in the United States for the launch of his must-read book MANMADE at the Kiehl's store in Fashion Square, Scottsdale Arizona. My love for Kiehl's skincare has began almost 20 years in New York City where I grew up. I remember their store on 3rd Avenue in the East Village packed with people waiting in line to just get in the store. So meeting Chris was quite special to me. His achievements and personal style are very inspirational. Manmade The Essential Skincare & Grooming Reference for Every Man book is the first grooming and skin-care guide created with a 21st-century man in mind. Check it out:-)
Hey Scottsdale beauties: I wanted to share the invitation for this Thursday, Feb 16th as Kiehl's U.S. President, Chris Salgardo, will be in town for a public appearance & book signing for his first book MANMADE:  The Essential Skincare & Grooming Reference for Every Man.  The event will take place at Kiehl's at Fashion Square in Scottsdale, Arizona from 6-7PM. Guests will enjoy complimentary refreshments, DJ music, and the first 25 customers will receive mystery gift cards worth up to $100. #GETMANMADE @Kiehlsnyc
Kiehl's introduces Precision Lifting & Pore Tightening Concentrate, a clinically demonstrated formula to visibly lift skin, help reshape facial contours and tighten the appearance of enlarged pores.
Loss of elasticity and facial definition are common aging concerns, but did you know the increased visibility of pores is a KEY sign of aging as well? How does pore size contribute to aging? When skin loses its elasticity due to aging, it begins to sag and pores become visibly bigger, resulting in skin that appears older. Armed with the knowledge that enlarged pores can be the result of sagging, aging skin, Kiehl's chemists focused their development with the understanding of the Dermal Epidermal Junction's (DEJ) critical role to the skin's function.
What are the claims and benefits?
This product was clinically demonstrated to show:
JESSICA BIEL – GET THE LOOK:
MAKEUP ARTIST: Kayleen McAdams, ck one color global makeup artist
INSPIRATION: "I wanted to do something really fresh, light and feminine. There were so many beautiful pastels in her dress, so I played with those tones."
KAYLEEN'S STEP-BY-STEP:
I prepped Jessica' skin with moisturizing face and eye products, Kiehl's Ultra Facial Cream Intense Hydration and Kiehl's Creamy Eye Treatment with Avocado, to give her makeup a good base to stick to.
Then, I used a damp Beauty Blender to apply ck one 3-in-1 face makeup with SPF 8 in fair 200, followed by ck one 3-in-1 concealer in light 1 underneath the eyes, around the nose, and along the edges of her mouth to even out her skin.
I used Charlotte Tilbury Sculpt and Highlight Powder on the tops of Jessica's cheekbones, down her nose, and on her cupid's bow.
I finished her skin with ck one cream + powder blush duo in breath 100 right on the apples of her cheeks and set it with the powder side of the product to give the look staying power throughout the night.
For Jessica's eyes, I started by using a fluffy brush to apply ck one cream + powder bronzer duo in deeply bronzed 400 all over the lid.
Then, I used ck one powder eyeshadow in expose and evolved on the inner corners of the eye and along the lash line at the outer corners.
I completed her eye with two coats of ck one volumizing mascara on the top lashes to pump up the lashes.
Then, I applied the same mascara onto an eyelash comb and combed through the bottom lashes to slightly darken them.
For Jessica's lips, I used Tarte Lip Surgence in Lucky to cover her whole lip with a matte pink; I also used this product in the center of her lips to give dimension and add moisture to her look.
Lastly, I gave Jessica's lips a good coating of Kiehl's Facial Fuel No-Shine Lip Balm to soak in while I did her eyes.
THE PRODUCTS AT-A-GLANCE:
EYE CREAM: Kiehl's Creamy Eye Treatment with Avocado
MOISTURIZER: Kiehl's Ultra Facial Cream Intense Hydration
FOUNDATION: ck one 3-in-1 face makeup with SPF 8 in fair 200
CONCEALER: ck one 3-in-1 concealer in light 1
BRONZER: ck one cream + powder bronzer duo in deeply bronzed 400
EYE SHADOWS: ck one powder eyeshadow in expose and evolve
MASCARA: ck one volumizing mascara in extreme black
LIP TINT: Tarte Lip Surgence in Lucky
LIP BALM: Kiehl's Facial Fuel No-Shine Moisturizing Lip Balm
This is the list of the best skincare and haircare products for the week, according to moi:)
Best Skincare
Kiehl's Ultra Facial Cream Intense Hydration for drier skin types, fragrance free and paraben free. Super light super moisturizing, clean non greasy.
Kiehl's Ultra Facial Overnight Hydrating Masque, replenishes skin's water reserves for long-lasting hydration  and healthy looking skin for all skin types. Paraben free and fragrance free. Super light super moisturizing, clean non greasy.
Shiseido Future Solution LX Total Protective Emulsion SPF 18 Day/Jour. A little a bit of a splurge at around $200! But hey some things are worth investing sometimes especially your skin. It is not fragrance free, I smell a very light fragrance though which is not too bad.
Shiseido Benefiance WrinkleResist 24 Pure Retinol Eye Mask…what's not to like, a total indulgent for the eyes.
Here are my picks for the Best Makeup Skincare Hair Perfume of the week. Hope you love them as much as I do. To see what else I love make sure to follow Marta Walsh on Instagram. Good day all X
My beauty picks for the day…ZOYA GODIVA Pixie Dust is a beautiful and very sparkly, almost caviar like texture, nude nail polish and is perfect for the office or night out. Kiehl's Powerful-Strength Line-Reducing Concentrate is light and has an interesting texture when you apply to face, it turns thicker, the magic ingredient is Vitamin C. Avon ANEW Absolute Even is great because it is light and designed to even out my imperfect complexion.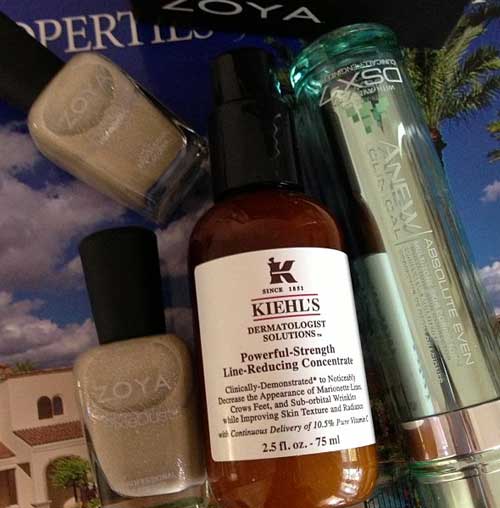 Great winter anti-aging face cream new from kiehls Powerful Wrinkle Reducing Cream. It's thick in texture and very hydrating. According to Kiehl's the cream addresses loss of elasticity:
"Loss of elasticity begins in our 20's with the slow progressive decrease of our elastin and collagen fibers. It is one of the fundamentals reasons why fine lines, wrinkles and enlarged pores begin forming. Maintaining elasticity is essential to preserving younger looking skin."-Dr. Adam Geyer, Kiehl's Products Development Consulting Dermatologist.