All Posts Tagged With: "Skincare Reviews"
Want to know what are some of the best beauty products on the market today? Check out ELLE Beauty Awards 2008! The awards are based on votes by ELLE.com readers. Did your favorites make the list?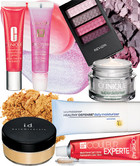 From streaky self-tanners to oil-zapping facial scrubs, these reviews tell all
Neutrogena is a drugstore fave, and who among us didn't reach for their products during our acne-prone teen years? The brand has many standouts in the skincare, sunscreen and hair categories — and a fair share of duds. See which to buy and which to avoid according to TotalBeauty.com members.
The Four Worst: No. 4: Neutrogena MicroMist Tanning Sunless Spray, $10.99
TotalBeauty.com average member rating: 5.2*

What they said: "I was so streaky and a mess that it was embarrassing …"
TotalBeauty.com average member rating: 5.2*

What they said: "It covered absolutely nothing and it ended up making my skin look greasy …" — Chipie, TotalBeauty.com member
The 16 Best: No. 16: Neutrogena Norwegian Formula Age Shield Sunblock, $9.99
TotalBeauty.com average member rating: 9*

What they said: "It sinks in to your skin within minutes of putting it on and has a silky feel, so it's easy to put makeup on over it …" — LK8888, TotalBeauty.com member