All Posts Tagged With: "Snooki"
Want to smell liks Snooki, perhaps now you can with her new perfume: Snooki by Nicole Polizzi.

Snooki by Nicole Polizzi – Launching Thursday, November 10th, 2011, on HSN
Snooki by Nicole Polizzi…Inspired by her favorite treats (no, not pickles) comes the namesake fragrance by Nicole Polizzi, Snooki.
Stars like Audrina Patridge and Nicole "Snooki" Polizzi, recently stopped by the Gifting Services Celebrity Showroom gifting suite to get their fill of the cult classic Palmer's Cocoa Butter Formula items.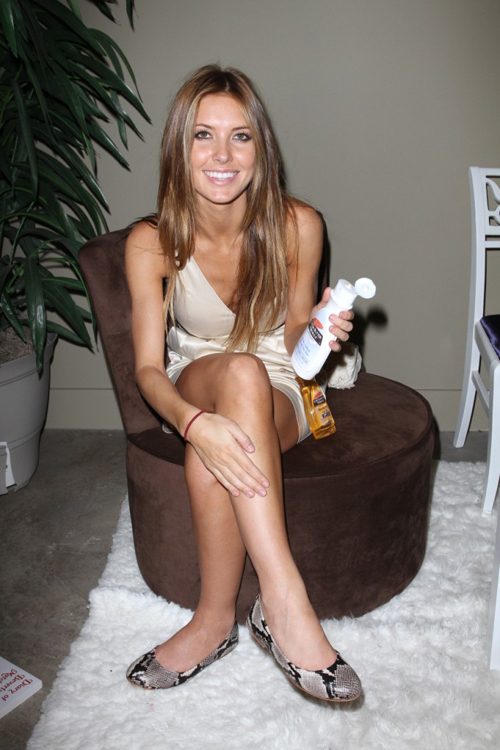 Audrina Patridge starts her winter skin care regimen early at the Gifting Services Celebrity Showroom in West Hollywood, CA. The "Dancing With The Stars" alum applies the hydrating Palmer's Cocoa Butter Formula Lotion to her legs. (Photo credit: Gifting Services).
See Snooki here!
How To Get Snooki's Tan: Jersey Shore superstar Snooki showed up to the 2010 MTV Movie Awards with a fabulous tan keeping integrity to the very famous GTL (Gym, Tanning, Laundry). Talking Makeup has just found out that Snooki is wearing Sunlove sunless tanning spray. Recently all celebrities have been ditching tanning beds and opting for healthy skin with a beautiful glow.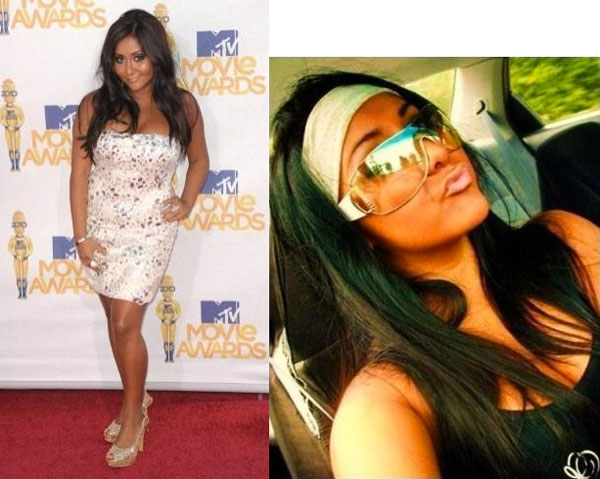 Reality Star, 'Snooki', talks about Pantene's First Reality Hair Star contest and tells us why 'she should be' chosen to be the World's First Reality Hair Star to star in the World's First Live Beauty Ad on May 2010. Snooki is already a reality star on MTV's Jersey Shore so she can't actually enter the contest but you can! Find out more go to www.pantene.com/realitystar and submit your video or vote on your favorite!
In case you've been busy writhing on the floor post-punch at Headliners, Jersey Shore is the number one pop culture phenomenon of the decade. True, the decade is only two weeks old but Jersey Shore is even catching on in Hollywood. Stars are partaking in their own guido/guidette worthy makeovers. Recently Jersified: Alyssa Milano and Michael Cera. MTV.com writer Lisa Chudnofsky got her own pouf courtesy of Snooki herself.
This fist-pumping and nickname generating MTV opus has peppered more conversations of mine lately than has the healthcare debate. Want to arm yourself with the all the info you need for the watercooler convos on Fridays? Pour yourself a tall glass of Ron-Ron Juice and let's break down the beauty fails of Jersey Shore.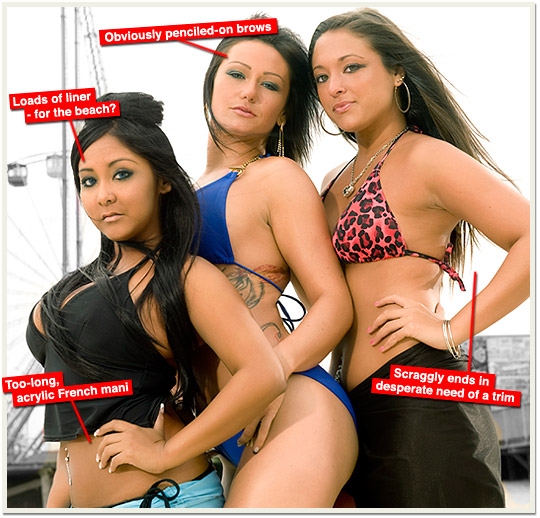 The girls of Jersey Shore, left to right: Snooki, JWoWW, Sammi
1. The Acrylic French Mani I just can't "vibe" the acrylic faux nail situations. And the French manicure adds insult to injury. I'd like to see Snooki follow Sammi's lead and stick to natural nails with a pretty pink polish.
2. Loads of Liner Yes, it's the summer and yes, you're wearing your Ed Hardy best. But Snooki, you're on the beach, doll. Summer makeup is all about taking it down a notch.
3. Obviously Penciled-On Brows Overplucking can lead to permanent sparse brows. JWoww would do well to better match her eye pencil to her brow shade and use tiny hairlike strokes to simulate real brows.
4. Scraggly Ends Sartorially, Sammi needs some advice, but she's doing okay in the beauty department–with the exception of her flat-ironed to death ends, which are dying for a trim. Just an inch or two would increase volume and movement, giving the impression of healthier hair.
Read full article in dailymakeover.com
Who is this Snooki girl and do we care? Snooki, star of MTV's reality series Jersey Shore managed to get all our attention and I'm not sure why. Are we all just sucked into the hype?  "But he  (The King) isn't wearing anything at all!"? (The Emperor's New Clothes a tale by by Hans Christian Andersen)? I'm even feeling guilty posting this:) 
More 'guilt': Watch how Alyssa Milano transforms into a Snooki girl. Fascinating!