Talking Makeup is happy to announce a GIVEAWAY of Rx For Brown Skin products!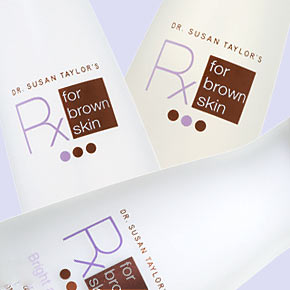 About Rx For Brown Skin: People are fundamentally the same-but their skin isn't. As a renowned dermatologist and leading authority on the treatment of skin of color, Dr. Susan C. Taylor created Rx for Brown Skin to treat the concerns unique to darker skin, including African American, Latin, and South Asian skintones. The irritant-free solutions target sensitivity, irritation, dullness, and hyperpigmentation, which can result in dark marks and blemishes. Plus, the exclusive Bright Skin Complex ensures your skin looks luminous no matter how deep your complexion may be. Treat your skin to Dr. Taylor's specialized skin savers and uncover your true brilliance.
THE PRIZE: 2 lucky winners will win either 1 Rx For Brown Skin Bright and Healthy Starter Kit ($75 value),
…or 1 Rx For Brown Skin Bright and Clear Starter Kit ($75).
HOW TO ENTER GIVEAWAY:
1. Subscribe to Talking Makeup's YouTube channel HERE!
2. Leave a comment on this post and tell us which Rx For Brown Skin Kit you would LOVE to try: Bright and Healthy Starter Kit or Bright and Clear Starter Kit.
3. Next Monday 5/4/2009 I'm going to randomly pick 2 winners and send them their desired kit!
GOOD LUCK everyone:)