Beauty
Celebrity makeup artist Beau Nelson and celebrity hairstylist Anthony Campbell worked with Jessica Biel for the Time 100 Gala on Tuesday, April 23rd, 2013 in New York, NY. TM has the details on Jessica's sexy, smoky look.
BEAUTY INSPIRATION:
"Jessica has beautiful skin and stunning green eyes that I wanted to play up. I thought giving her a sexy sultry warm brown smoky eye would look great with her Tom Ford dress.
Jessica Biel Hair and Makeup
KIM KARDASHIAN. HAIR BY: CHRIS McMILLAN, LIVING PROOF CELEBRITY HAIRSTYLIST.
Kim Kardashian 2013 MTV Movie Awards
INSPIRATION: "We wanted a really simple, chic blow out. Kim's been trying to grow her bangs out, so I created a deep part to pull the bangs to the side. We kept the blowout sleek with a little bit of texture."
TIPS/TECHNIQUE: "I used Living Proof Prime Style Extender while Kim's hair was still damp so that her style would last all night. Then I blew it dry with a round brush to create the sophisticated blow out. I created a very deep part to tuck her bangs to the side. I used Hold Flexible Hairspray throughout her hair to create texture and a piecy look. I also used it to keep the bangs tucked away."
PRODUCTS: PRIME STYLE EXTENDER ($20), HOLD FLEXIBLE HAIRSPRAY ($24)
DRESS: YVES SAINT LAURENT
RETAILERS: LIVINGPROOF.COM, SEPHORA, SEPHORA.COM, ULTA, NORDSTROM
Spring is officially here! It's exciting to finally see more sunshine, and to, of course, look good. So here is a sample of what's in my beauty bag to help me feel good.
For my skin, and especially the skin on my face, I love Simple Skincare products. I don't believe you need to use fancy or expensive skincare products to keep your skin in shape and looking amazing. I like to wash my face with Simple Moisturizing Facial Wash in the shower or to help remove makeup and dirt. It feels very creamy, yet light, refreshing and super gentle to my skin. I also love the Simple Eye Make-Up Remover Pads. This one is a must-have. Just wipe and go. I seriously can't function without these. Both products are fragrance free, which is a god sent, ha. Don't like perfumes on my skin.
For my hair I've discovered U Luxury, aka United Luxury Shampoo & Conditioner – a UK brand. It smells light and very moisturizing without weighing my hair down.
My beauty picks for the day…ZOYA GODIVA Pixie Dust is a beautiful and very sparkly, almost caviar like texture, nude nail polish and is perfect for the office or night out. Kiehl's Powerful-Strength Line-Reducing Concentrate is light and has an interesting texture when you apply to face, it turns thicker, the magic ingredient is Vitamin C. Avon ANEW Absolute Even is great because it is light and designed to even out my imperfect complexion.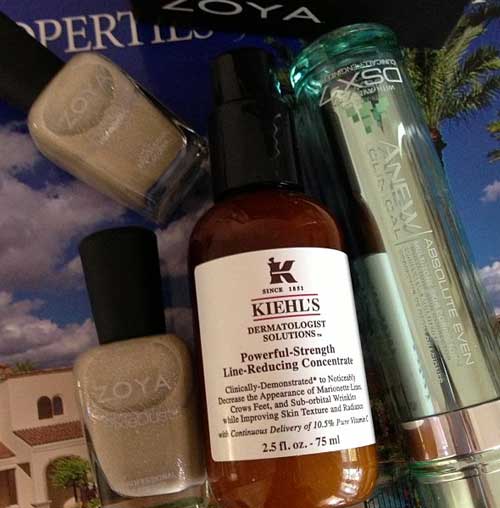 Kourtney Kardashian is all ready for Spring in her Amber Sakai SS13 tribal metallic print dress while out and about in Los Angeles. Do you love?
With her natural elegance and beauty, Diane Kruger is one of the freshest, most recognizable faces in film. Attracted by her sophistication and artistic spirit, the House of CHANEL chose her for its ALLURE fragrance advertising campaign in 1996, then again for the Paris-Biarritz handbag advertising campaign, shot by Karl Lagerfeld in 2007.
Now an ambassadress for CHANEL, Diane Kruger will be the face of a new skincare advertising campaign, due to be unveiled in 2013.
Celebrity hair colorist Lorri Goddard was responsible for Reese Witherspoon's transformation from blonde to brunette. Do you love?
Moroccanoil Treatment wins Stylist Choice Award for "Favorite Product You Can't Live Without." Fifth Consecutive Win.
Wins Stylist Choice Award
Moroccanoil, the originator and leader in luxury, professional argan oil-infused products for hair has once again won the coveted Stylist Choice Award in the influential "Favorite Product You Can't Live Without" category. This is the fifth annual win for the breakthrough Moroccanoil® Treatment formulation that created a new oil treatment category for hair within the beauty industry.
A sneak peek to NEW Aveda Art of Nature makeup collection.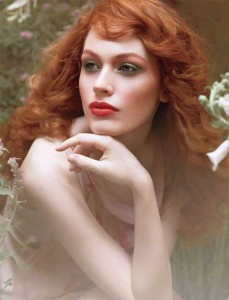 Aveda Makeup
SPRING MAKEUP. Spring is around the corner, and all I'm thinking is new and fresh. In beauty terms it means what hot new products I can use this Spring that are so 2013. Here are my picks of the hottest beauty products this Spring, from good skincare for sensitive skin to makeup, perfume, and hair.
SKINCARE
I can't live without the Simple Skincare wipes. The NEW Simple Radiance Cleansing Wipes are perfume-free and so good at removing my makeup without irritating my skin! There's nothing worse than heavily-perfumed facial wipes that compete with my perfume… it almost doesn't make sense. These wipes from Simple are a must-have! They are great for travel, work and anytime you want to refresh.
I also love the NEW Eye Makeup Remover Pads for removing my eye makeup, which I'm addicted to. They are also good to correct makeup mistakes in the morning when I'm lining my eyes with a black liquid eye liner. It's Simple: wipe, correct, and start over. And lastly from Simple is the NEW Protecting Light Moisturizer with SPF 15… did I mention it's oil free? I need this moisturizer every day to help protect my skin from the sun. It's light, fragrance free and it does the job: it hydrates perfectly. It helps to my powder foundation set nicely by making my skin dewy and moist.