All Posts Tagged With: "Vogue"
Here's a sneak peek to Gwyneth Paltrow's VOGUE August 2010 Cover and photo shoot. Gwyneth to me is the modern day Audrey Hepburn. A true classic actress, witty, charming, and full of elegance. BTW have you heard Paltrow's fluent Spanish in Spain On The Road Again with Mario Batali. And, she can cook!

Mario Testino/VOGUE
Each August, VOGUE profiles spectacular women at every age—from their 20s to their 80s—for our annual Age issue. This year is about transformation: A new career? A new love? A new direction? Why not?
As Anna Wintour notes in her Letter from the Editor, "Anyone's life can turn on a dime; and yet this seems especially true for women, who invariably inhabit numerous roles at the same time."

At 67, former first lady of Japan Miyuki Hayotama eagerly embraces change and transformation in the moments following her husband's abrupt resignation.
The CBS Television Network (FNO) announced that the making of "Fashion's Night Out 2010" will be the subject of a one-hour primetime special to be broadcast, Tuesday, Sept. 14 , 2010, 10:00-11:00 PM, ET/PT.
A behind-the-scenes look at the making of the world's largest fashion celebration. Now in its second year, Fashion's Night Out, a worldwide initiative to celebrate fashion and support local economies, was launched in 2009 by Vogue, the Council of Fashion Designers of America and NYC & Company in response to the global economic downturn.
French siren Marion Cotillard is featured on the cover of VOGUE July 2010. With a new film out this month, the Oscar winner reveals to Contributing Editor Joan Juliet Buck her passion for music and Modigliani—and her true bohemian spirit. Photographed by Mario Testino.
Marion Cotillard on playing in the Expressionist-Surrealist band Yodelice fronted by composer Mazim Nucci: "I play the bass guitar, keyboard, and tambourine—I'm their one-woman band and all-purpose maid," Cotillard explains. She's taken to appearing with Yodelice on tour, dressed as a man, under "Simone," the name of her maternal grandmother. "It's pretty refreshing to be in a situation where the spotlight is on someone else."
Here is a sneak peek to Blake Lively's photos in Vogue Magazine June 2010. Blake was photographed by Mario Testino. Do you love?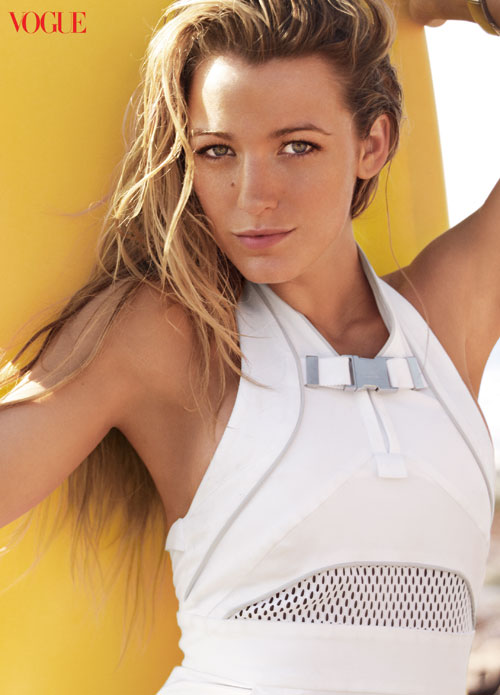 On the occasion of the release of her debut album, The Ghost Who Walks, model Karen Elson appears with her husband, Jack White, in the June 2010 issue of VOGUE. Shot by Annie Leibovitz in the couple's hometown of Nashville, this feature marks the first time Elson and White have been photographed together for publication.
On the occasion of her debut album's release, Karen Elson and Jack White agreed to be photographed together for the first time. She wore charming vintage-look dresses. (He wore a top hat.). By Jonathan Van Meter.
EXPRESS celebrated its 30th anniversary of fashion with Vogue at the Eyebeam Studio with a fashion show and live performance by VV Brown, Thursday, May 20, 2010. The event was hosted by: Chanel Iman, Caroline Trentini, Elettra Weidemann & Ed Westwick.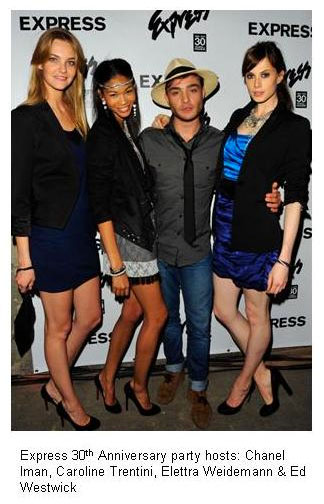 Other celebrities spotted at the EXPRESS 30th anniversary party: Katrina Bowden ("30 Rock), Anna Lynne McCord ("90210"), Nina Dobrev ("Vampire Diaries"), Molly Sims, Justin Theroux, Alek Wek, Robert Verdi, Phillip Bloch. Guests experienced the Fall 2010 runway extravaganza firsthand as Express showcased iconic styles from decades past reinterpreted for the modern fashion landscape.
Blake Lively is wearing a CHANEL J12Marine watch on the June 2010 cover of VOGUE. A true diving watch, the "J12 Marine" is available in white, black with blue bezel and all black with rubber straps and is water resistant to 300 meters.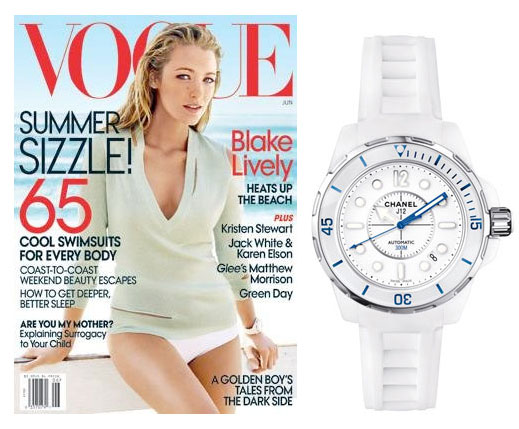 The global Fashion's Night Out celebration has expanded to sixteen countries, spearheaded by 15 international editions of Vogue outside of the United States – three more locations than last year.
For year two, the fun will last even longer with Fashion's Night Out events spanning more than a week. France will kick off FNO on the 7th of September, 2010, with Britain and Korea on the 8th, Australia, Germany, Italy, Portugal, and Spain on the 9th, India, Russia and the United States on the 10th, China, Japan and Taiwan on the 11th, with Greece and Turkey bringing the event to a close on the 16th September.
Sneak Peek: Lancôme will be working with ambassador Anne Hathaway and spokesmodel Elettra Wiedemann, as well as supermodel Veronica Webb, for the year's most celebrated event, the Met Ball, taking place tonight. The theme is "American Women: Fashioning a National Identity" and it'll be hosted by Gap creative director Patrick Robinson, Vogue's Anna Wintour and Oprah Winfrey. Talk about star power!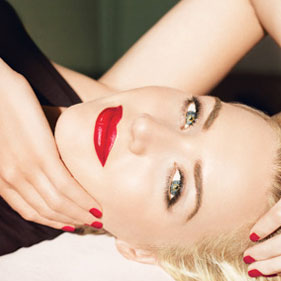 Makeup artist Gina Brooke will be making up Anne, Lancôme's Ewa Szwed is working with Elettra and Daniel Martin will make up Veronica.