Celebrity makeup artist, Vanessa Scali, made "Twilight" hottie Ashley Greene sizzle on the red carpet last night at the 2009 Teen Choice Awards.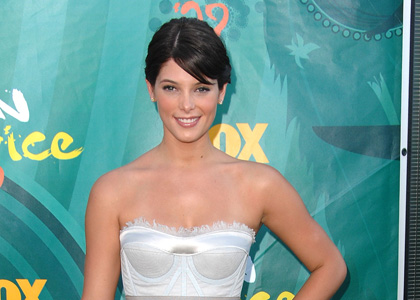 Since Ashley was wearing a light blue bustier top and flowery skirt by Dolce & Gabbana, Scali wanted to create a look that was sweet, summery and sexy. "I wanted Ashley to have radiant skin, so I used shu uemura's new red:juvenus skincare line first using the Vitalizing Refining Lotion…(image below)

…followed by the Intense Revitalizing Concentrate (image below)," said Scali. "These products feel weightless and penetrate quickly leaving the skin energized, refined and radiant."
To complete the look, Scali gave Ashley, the winner of Teen Choice's "Fresh Face", a beautiful shimmery taupe eye and a well-blushed cheek. To recreate Ashley's look, Scali suggests you take the following steps:
SKIN PREP: I used two shu uemura red:juvenus products: Vitalizing Refining Lotion followed by Intense Revitalizing Concentrate. These products really made Ashley's skin glow, creating the perfect canvas for makeup.
UNDEREYE: Lancôme's Effacernes in Light Bisque. It gives clean, fresh coverage.
FOUNDATION: shu uemura Nobara Cream Cover Stick Foundation. It gives a beautiful, flawless, natural look.

BLUSH: Lancôme's Color Design Blush in Petticoat Pink on the apples of the cheeks.
EYESHADOW: shu uemura's Cream Eye Shadow in P Brown all over the eye lid blending off at the crease and under the bottom lashes close to the lash line.
EYE LINERS: To define and elongate the lash line, I used shu uemura's Painting liner in Black. I also lined the inner rim of the eye with a matte white pencil. This is a great way to open the eye.
LASHES: I love luxuriously full lashes and gave Ashley's a boost by adding shu uemura's Flare Lashes in Black.
MASCARA: One generous coat of Kiehl's Marvelous Mineral Mascara in Black.
POWDER: In the T-zone only, I used shu uemura's Face Powder in Colorless (matte formula).
LIPS: I used shu uemura's Rouge Unlimited in Wine 296 to stain the lip and finished with a light touch of Gloss Unlimited bg 952s.
PRODUCTS USED:
shu uemura products are available at www.shuuemura-usa.com 
Vitalizing Refining Lotion — $40.00 (available August 18th at shuuemura-usa.com)
Intense Revitalizing Concentrate — $85.00 (available August 18th at shuuemura-usa.com)
Nobara Cream Cover Stick Foundation — $42.00 (available September 1st at shuuemura-usa.com)
Cream Eye Shadow in P Brown — $30.00
Painting Liner in Black — $24.00
Flare Lashes in Black — $16.00
Face Powder in Colorless — $33.00
Rouge Unlimited in Wine #296 — $23.00
Gloss Unlimited in bg 952s — $22.00
Lancôme products are available at www.lancome-usa.com
Effacernes concealer in Light Bisque — $27.50
Color Design Blush in Petticoat Pink — $27.00
Kiehl's products are available at available at www.kiehls.com
Marvelous Mineral Mascara — $16.50