MTV Movie Awards Red Carpet Hair Trends: Naturally Tousled Waves like Kristen Stewart and Vanessa Hudgens & Sleeked Back Hair like Megan Fox!
Anyone catch the MTV Movie Awards last night? Twilight ruled supreme, winning Golden Popcorn buckets for best movie, best actor and best actress to name a few.
But the real winners at this year's awards were all the stylish gals of young Hollywood. Trendy outfits, perfectly applied makeup and great hair graced the red carpet and partied long into the night.
By far the most popular look of the evening was naturally tousled waves. From Twilight's Kristen Stewart, who rocked the looked with a pair of Converse sneakers, to High School Musical hottie Vanessa Hudgens, this style was the real winner of the night!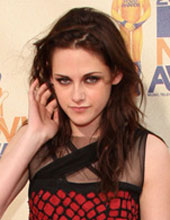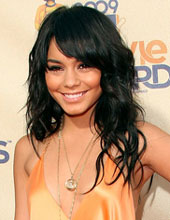 Kristen Stewart (left) Vanessa Hudgens (right)
How To Get MTV Movie Awards 2009 naturally tousled waves look: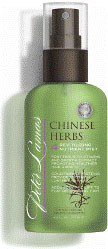 Shampoo and condition hair with Peter Lamas Avocado Olive Ultra-Smoothing Shampoo and Conditioner ($17.99 each on drugstore.com) for a sleek, no-frizz look. Spray damp hair with Peter Lamas Chinese Herbs Revitalizing Nutrient Mist ($20) to add body and shine then apply Smooth 'N Shine Curling Mousse ($2.99 on folica.com) to hair while tousling with hands and let hair air dry to blowdry on a low setting with a diffuser.
How to get Megan Fox's sleeked Back Hair: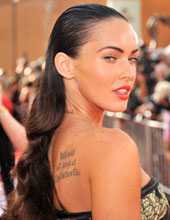 Megan Fox
Put a little twist on loose flowing locks by sleeking back your hair like Megan Fox. A strong hold gel will keep that wet look in place. Try Smooth 'N Shine Extra Hold Gellation ($2.99 on folica.com)