All Posts Tagged With: "Leonor Greyl"
It isn't a pretty subject, but it's one that can't be ignored: Hair loss is one of the unfortunate side effects of a plummeting economy.
Temporary hair loss can be caused by day-to-day stress and emotional shock, and 2009 has had no shortage of either. In Fact, according to Google Trends, searches for 'hair loss products' have spiked in recent months.
Well before the recession, Leonor Greyl has been pioneering both research and remedies in gentle, natural hair restoration. While the hair care brand always encourages women to seek their doctor's advice about hair loss-since hair is a reflection of what's going on inside the body-Leonor Greyl has developed several topical treatments that can help fight several forms of hair loss.
The Leonor Greyl  Method: The shower is a perfect place to escape from the pressures  of the day, and it's also an ideal time to help bring balance back to the hair.
Before Shampooing: Treat a (dry) scalp with Régénérescence naturelle ($42), a blend of borage oil, Chili rose, and essential oils of plants, flowers, and fruits, all known for their purifying and energizing properties. This nourishing treatment revitalizes the epidermis in just 15 minutes.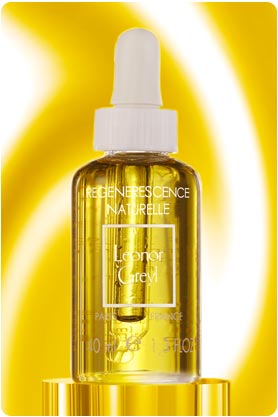 Cleansing the hair: There are two options for cleansing hair under stress. Shampooing au miel ($24), Lenor Greyl's gentlest formulation, is laced with honey and rose extracts for maximum softness.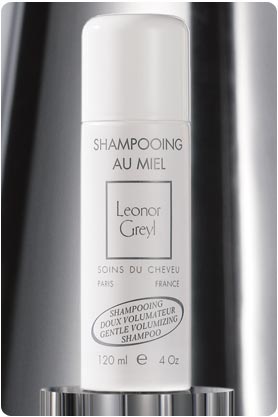 Talking Makeup has learned today that luxury haircare line Leonor Greyl has just opened a treatment room at the RITZ hotel in Paris. Leonor Greyl, an already a chic brand, seems to be a perfect fit at the RITZ.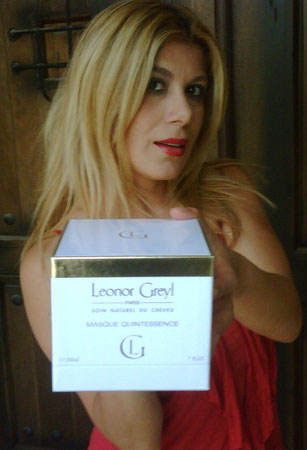 Marta Walsh is holding an amazing hair treatment by Leonor Greyl to help your frizzy, dry, chemically proceed hair: MASQUE QUINTESSENCE
We also found out  a while ago that Gwen Stefani is using Leonor Greyl hair care in her No Doubt 2009 World Tour!
You might also want to check out: Summer Hair: Leonor Greyl Palm Oil
Visit www.leonorgreyl.com for product details.
Leonor Greyl haircare, & Gwen Stefani's choice at her No Doubt 2009 World Tour, has a must-have product for the summer days on the beach, or when your hair feels extra dry:  Leonor Greyl Palm Oil or Huile de Palme.
Leonor Greyl Plam Oil is must-have for French women at the beach in St Tropez, protecting their hair from the sun and keeping it nourished and hydrated.
At home: Leonor Greyl Plam Oil or Huile de Palme should always be used prior to applying a treatment or a shampoo. Apply Huile de Palme evenly to dry lengths and ends, brush hair to ensure even distribution.
Talking Makeup has just found out that Gwen Stefani is using Leonor Greyl hair care in her No Doubt 2009 World Tour!

Gwen Stefani & No Doubt.
Gwen Stefani's stylist is using the following Leonor Greyl products on her:
Leonor Greyl Masque Quintessence: THIS EXCEPTIONAL MASK based on Cupuaçu Oil and Manketti oil offers a amazing action: it has an incredible hydrating power and retains water that is absorbed very slowly and provides a time-release effect that moisturizes the hair fibers. It counteracts the trauma that sophisticated processes such as bleaching, highlighting, straightening, and perming… – can cause to the hair, as well as natural damage induced by passing time.