All Posts Tagged With: "Makeup Palette"
Whether you are a jet-setter or always on the move, Sephora offers a variety of beauty minis perfect for purses, pockets, and carry-ons that won't have you second-guessing your beauty routine. Now you can board beautifully by air, land or sea with these glamorous on-the-go favorites:
NEW Sephora Collection Summer Goddess Palette, ($36) – Achieve the ultimate summer look with a radiant bronzer and bright "summer eyes" eyeshadow shades. This all-in-one palette contains everything you need to capture summer's hottest look.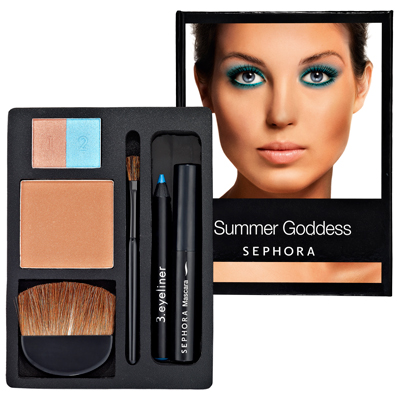 Stila has your summer travel guide on lockdown with the new limited edition Stila Road to Radiance: Across the U.S.A. Palette. This collectible travel palette includes 4 eye shadow shades and 1 convertible color for only $10 (a $65 value).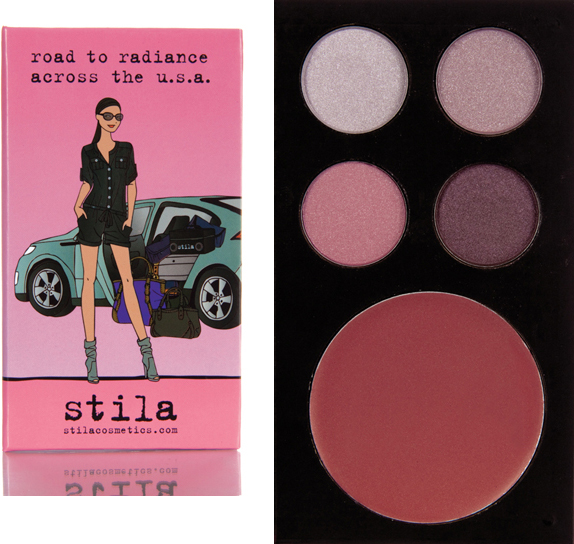 Launching alongside each palette, a travel journal detailing each Stila girl's adventures is available on StilaCosmetics.com. Each diary entry includes the hottest spots in the hottest cities to visit this summer.
What I like about NARS Everlasting Love 15 Year Anniversary Palette ($75)  is that it includes most of the makeup I need to complete my makeup look day or night. I can travel with it and it keeps my makeup area clutter free. My favorite items from the palette: The Multiple in South Beach is a creamy blush/bronzer that gives me a gorgeous sun-kissed glow (shimmering apricot), Eyeshadow in Night Breed is a dramatic black eye shadow that will smoke your eyes in an instant (black with silver glitter), Eyeshadow in Edie for highlighting (delicate pearl sheen), and the Lipstick in Chelsea Girls (nude pink beige) if you love NARS lip gloss in Turkish Delight you will also love this one.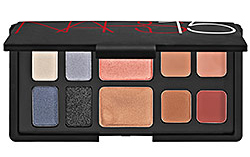 The NARS 15 Year Anniversary Palette, Everlasting Love, delivers an elegant look that focuses on dramatic, smoky shades for the eye, a subtle glow for the cheeks, and soft, neutral lips. The compact features a specialized logo treatment in celebration of NARS' big birthday.
Here are some highlight from a new makeup line I've encountered: Bloom Cosmetics!
Makeup Palette – Natural Beauty and Smokey Glamour: All-in-One Colour Palette. These pocket-sized colour kits will turn makeup mortals into master artists, and are the ultimate makeup essential for day or night! Encased in a stylishly sleek mirrored top kit, this all-in-one fans out to reveal Eye Shadows, Brushes, Lipstick, Lip Gloss and Sheer Colour Cream in one versatile compact. Both kits come with a mirrored top and Bloom's professional quality Eye Shadow and Lip Brush for a quick and stylish beauty fix on the go. SRP: $30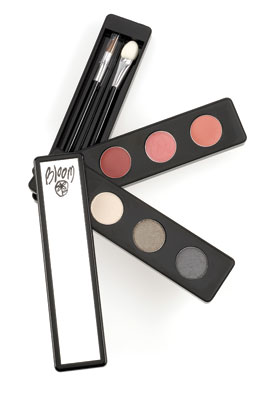 CHANEL COLLECTION ESSENTIELLE DE CHANEL MULTI-USE MAKEUP PALETTE – FACE-EYES-LIPS.
Designed for the jet-setting woman-on-the-go, the latest interpretation of COLLECTION ESSENTIELLE DE CHANEL.
Multi-Use Makeup Palette was inspired by a romantic weekend in Paris. Each palette creates uniquely different looks, perfect for any occasion, on either side of the Seine. Lumière Tendresse includes soft, muted colours that delicately highlight features for a fresh, sophisticated look. Lumière Romantique includes warm, rich tones offset by vibrant roses for a new, modern take on natural. All-exclusive shades include four powder eyeshadows, one powder blush, two cream lip colours and two lipglosses, plus a trio of makeup artistry tools and luxurious styling add up to pure glamour. $85.00
AVAILABLE AT DEPARTMENT AND SPECIALTY STORES, AND ON CHANEL.COM: FROM OCTOBER 2008.