L'Oréal Paris is launching their newest collections for Fall 2009! Marta is VERY excited:)
Here is the fabulous list:
Extra-Volume Collagen Mascara:

Escape from your comfort zone and pump up the volume with Extra-Volume Collagen Mascara with up to 12 times more impact, this innovative formula thickens, lengthens, and separates perfectly for all-day wear that won't clump, fake or smudge!
Colour Riche Anti-Aging Serum Lipstick:

Anti-Aging lipstick?? What more could a girl ask for?!! L'Oréal Colour Riche Anti-Aging Serum Lipstick treats and conditions lips to add volume, definition, contouring and of course that rich Colour Rich hue we've enjoyed throughout the years.
The Infallible Never Fail Plumping Lip Gloss, the first at-mass one-step plumping lip gloss designed to plump lips immediately for the perfect pout.

Shimmer makes eyes really pop! If you're a wild child, try the HIP Intensity Pigments Chrome Eyeliner, with a metallic finish, for an edgier look.

 For the seductress, the vibrant HIP Matte Shadow Duos offer a more elegant, polished look.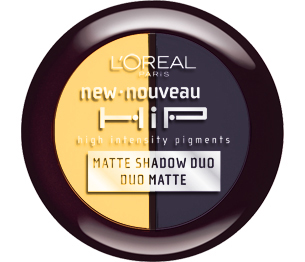 Extra-Intense Liquid Pencil Eyeliner: Get the intense look and luxurious feel of a liquid liner with the easy application and precision of a pencil. Extra-Intense Liquid Pencil Eyeliner glides on smoothly and evenly for beautiful definition in a single stroke. The smudge-resistant formula provides 16 hours of non-stop wear.

For the "go-green" guru, Bare Naturale Gentle Mineral-Enriched Eyeliner is a must-have. This eco-friendly eyeliner pencil, made with certified natural Gmelina wood, is preservatives, talc and fragrance-free, offering rich color and precision application.

Ice Age: Dawn of the Dinosaurs Extra-Gentle 2-in-1 Shampoo and Conditioner: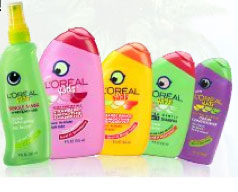 For the kids L'Oréal Paris has once again teamed up with a Hollywood hit cartoon! Introducing: Ice Age: Dawn of the Dinosaurs Extra-Gentle 2-in-1 Shampoo and Conditioner. Featuring images of the films lovable characters, this ultimate cleansing and conditioning formula promises no tears, no knots and helps protect hair from damage and dryness-bath time just got more adventurist!
Age gracefully with Collagen Moisture Filler Day Lotion SPF 15 and Collagen Moisture Filler Day/Night cream, the first and only daily moisturizers at-mass with powerful collagen for full 24-hour hydration. The two new treatments provide both moisture and collagen to support skin and fill in wrinkles.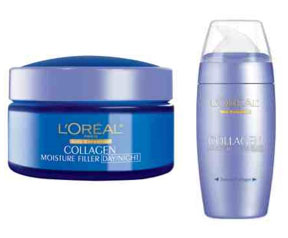 Finally an eye makeup remover you can count on! Clean Artiste Waterproof & Long Wearing Eye Makeup Remover instantly dissolves every trace of eye makeup, even those stubborn waterproof and long wearing formulas, with no greasy after-feel.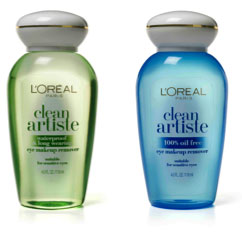 Kiss those crow feet goodbye! Revitalift Deep-Set Wrinkle Repair Eye, the newest addition to the Revitalift family, provides 24-hour intensive deep-set wrinkle repair around the eyes with AM and PM duo treatment.