All Posts Tagged With: "cat eyes"
I just discovered a gorgeous way to get smoky eyes with NARS Single Eye Shadow in Night Breed. The shade: black with silver glitter. The black pigment is pretty strong and you can skip the black eye liner on lower lids. I also use two other eye shadows: MAC Reflects Antique Gold which is part of the MAC Glitter Brilliants collection (your eyes will sparkle like diamonds) and stila kitten eye shadow for highlighting.
I then add MAC Rapidblack Penultimate Eye Liner (a liquid eye liner) and wing out my eyes for a bit of cat eyes. And finish with MAC Studio Fix Lash mascara. The result: dramatic, sexy eyes! To complete my look I add Chris & Tell lipstick by Lancôme which is THE prefect pink coral shade. I'm addicted to Chis & Tell! Every woman should have one pretty red lipstick and one pretty pink coral lipstick such as Lancome's version.
WATCH: Lancôme Chris & Tell Lipstick backstage at Chris Benz New York Fashion Week Spring 2010.
mark Spokeswoman Lauren Conrad made her mark at the launch of her new fashion line for Kohl's this week! Celebrity Makeup Artist Amy Nadine spills all her secrets for creating Lauren's feminine yet edgy look.
Talking Makeup has the scoop on how to get Lauren Conrad's dramatic makeup look!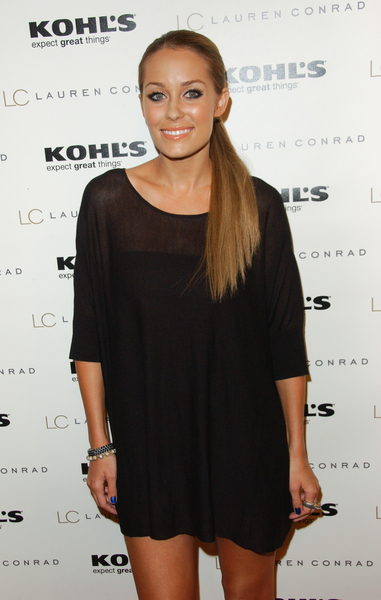 Face: "I started by powdering Lauren's entire face with mark Matte-nificent Oil-Absorbing Powder in Natural/Buff, and then lightly dusted the apples of her cheeks with her favorite, mark Good Glowing Mosaic Blush in Hush Baby. To add more definition to her cheekbones, I added a contouring layer of mark Bronze Pro Bronzing Powder in Bronze."