All Posts Tagged With: "Red lipstick"
Do you ever feel like the red lipstick is wearing you instead of the other way around? Check out these tips on how you, too, can look fabulous with red lips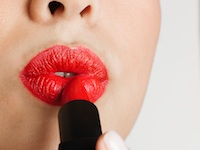 This is a TotalBeauty.com lip makeup article
Do you just love red lips (a la Anne Hathaway at the Oscars) but worry you can't pull them off? You totally can. You just have to follow these tips to get it right.
Whitney Port was at the Sephora Hollywood and Highland store in Los Angeles to kick off Sephora's "Kiss for a Cause," a three week long- initiative to benefit The Beauty Bus Foundation, a Los Angeles-based non-profit organization dedicated to enhancing the quality of life for homebound, terminally or chronically ill people and their primary caregivers by bringing beauty into their lives. This foundation provides in-home beauty and grooming treatments, free of charge, to those who might not otherwise have access, helping them maintain dignity and giving them respite during a difficult time.

Whitney Port Helps Sephora Kiss For A Cause
During the promotion, Sephora is inviting its clients to try one of fall's hottest trends, the bold, red lip, and donate their kiss to the in-store collage. Whitney Port was among the first to donate her kiss and add it to the growing mosaic of supporters, choosing Make Up For Ever's Rouge Artist Intense Lipstick in #43, Moulin Rouge as her favorite shade.
I just discovered a gorgeous way to get smoky eyes with NARS Single Eye Shadow in Night Breed. The shade: black with silver glitter. The black pigment is pretty strong and you can skip the black eye liner on lower lids. I also use two other eye shadows: MAC Reflects Antique Gold which is part of the MAC Glitter Brilliants collection (your eyes will sparkle like diamonds) and stila kitten eye shadow for highlighting.
I then add MAC Rapidblack Penultimate Eye Liner (a liquid eye liner) and wing out my eyes for a bit of cat eyes. And finish with MAC Studio Fix Lash mascara. The result: dramatic, sexy eyes! To complete my look I add Chris & Tell lipstick by Lancôme which is THE prefect pink coral shade. I'm addicted to Chis & Tell! Every woman should have one pretty red lipstick and one pretty pink coral lipstick such as Lancome's version.
WATCH: Lancôme Chris & Tell Lipstick backstage at Chris Benz New York Fashion Week Spring 2010.
Katharine McPhee is definitely looking different these days. I call it "The Hollywood Transformation". First thing you do is dye your hair blonde! Think Marilyn Monroe, Madonna, Lady Gaga, Gwen Stefani, even Lindsay Lohan. Blonde seems to be the ultimate Old Hollywood glamour symbol. And I love how Katharine McPhee waves her hand to fans, very regal or very Hollywood. Even the hairdo is similar to Marilyn Monroe's: short wavy bob parted to the side. To finish the look: add red lipstick. I approve Katharine McPhee's new hair color. The questions is: Do you?
Do you see any similarities between Katharine McPhee and Marilyn Monroe's hair and makeup?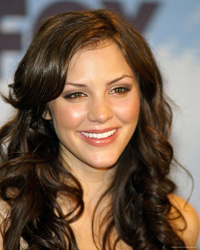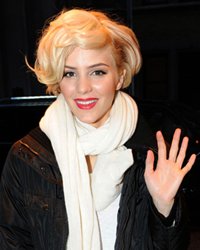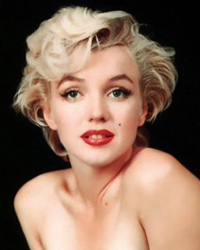 From left: Katharine McPhee in brown hair, then blond hair, and Marilyn Monroe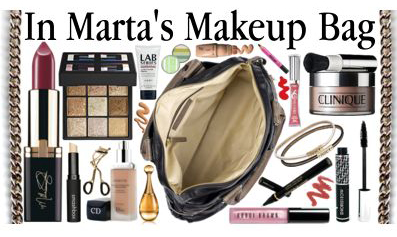 Watch Marta video blog talking about some of her favorite products in her makeup bag!
Products Marta loves:
DiorShow Mascara by Dior
Giorgio Armani Beauty Eyes To Kill Mascara
Giorgio Armani Beauty Lasting Silk UV Foundation SPF 20
Giorgio Armani Beauty Light Master Primer
Join Fashion's Night Out with Giorgio Armani Beauty and get a sneak peek to Rouge d'Armani-the NEW Lipstick!!
Fashion's Night Out – Giorgio Armani Beauty: Our lips are sealed…with a kiss…and you can be the first one to get in on the secret during Fashion's Night Out on Thursday September 10th. Come to the Giorgio Armani Beauty counter at Saks Fifth Avenue NY where National Artistic Director and Celebrity face designer, Tim Quinn, will be for one night only from 5pm-8pm to discuss fall trends and debut Rouge d'Armani – the new lipstick from Giorgio Armani featuring 8 hour wear and pure color ecstasy.
For that night only Giorgio Armani Beauty will feature Rouge d'Armani #400 rouge and #600 plum, (a shade that's sure to be in Vogue Beauty Editor Sarah Brown's makeup bag for fall!). Be the first to get these luxe lipsticks at Saks Fifth Avenue from 5pm-8pm on the 10th because after that both Tim and the coveted shades disappear until October 15th…(psst – we will also have a wait list at the counter so you can be the first to get them when they officially hit counters next month!)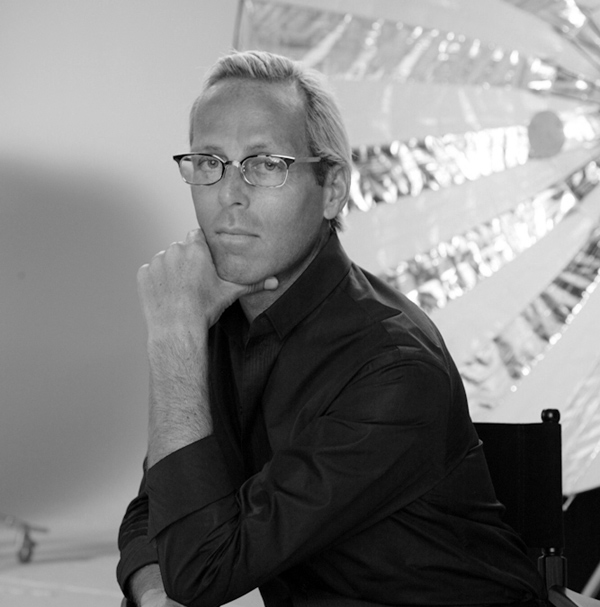 Tim Quinn, National Artistic Director and Celebrity face designer for Giorgio Armani Beauty
Jennifer Lopez graces the cover of InStyle September 2009 cover, which also happens to be their 15 anniversary special issue.
I absolutely love Jennifer's makeup look and hairstyle on this cover. She can have her hair pulled up tight to her scalp and still look good. Another celebrity I can think of who can pull off  this hairstyle effortlessly is Natalie Portman.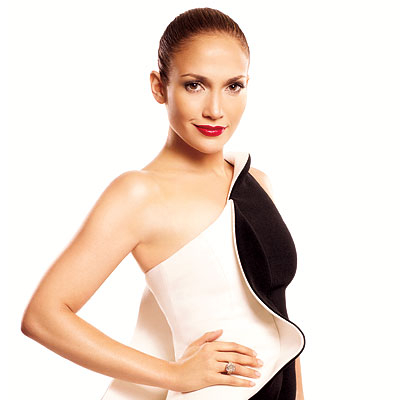 Here is how to get Jeniffer Lopez's inspired red lips on the cover of InStyle Magazine September 2009:
Lancome Color Fever in Rouge Magnificence, $25
Estee Lauder Double Wear Lipstick in Stay Scarlet 10, $22