All Posts Tagged With: "Dolce & Gabbana"
WATCH: Dolce & Gabbana Spring 2011 show in Milan, September 2010. via style.com
Milan, 26th September 2010. Milan Fashion Week SS 2011. Dolce & Gabbana Women's SS 2011 Fashion Show. Theme: SICILIAN SENSUALITY.
The tailoring tradition of the collection is developed with the usage of bed linens, bedspreads, towels and tablecloths. Chiffon and stretch chiffon, brocade, charming stretch, jersey lace, macramé, extra light linen and linen organza, silk, poplin, muslin and crochet.
Sneak Peek to exclusive backstage photos from the new movie "Quando, quando, quando…" directed by Domenico Dolce & Stefano Gabbana and starring the glamorous Monica Bellucci in a troubled story of love, emotions and false illusions. Arriving on September 7th, 2010.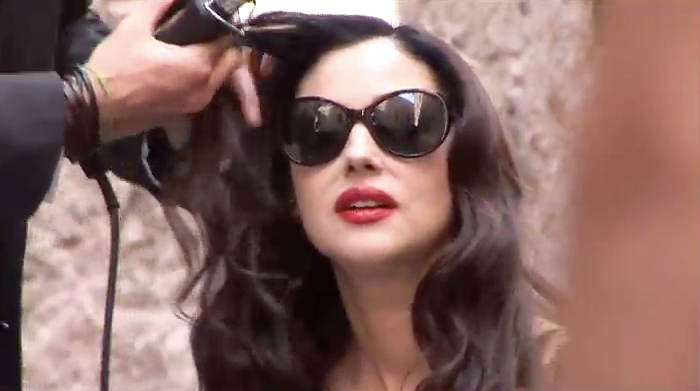 Sneak Peek: Behind the scene photos from Dolce&Gabbana's Motion Pictures new film "Quando, Quando, Quando". Also watch the trailer. I can't wait to watch the movie. I'm a huge Dolce & Gabbana fan!

Watch Quando, Quando, Quando –©Dolce&Gabbana Motion Pictures in Drama |  View More Free Videos Online at Veoh.com
Rosie Huntington-Whiteley looks absolutely breathtaking in a Dolce & Gabbana dress on the cover of Love Magazine. The queen of bombshells has just arrived! LOVE Magazine is a twice yearly fashion magazine. Their new issue is out 23rd August 2010.
NARS Cosmetics worked with celebrity makeup artist Vanessa Scali to create the makeup look for "Mad Men" actress Christina Hendricks at the Season 4 Premiere last night, July 20th, 2010. NARS' NEW Pure Matte Lipstick was key in creating her look along with other products from NARS' Fall 2010 Color Collection.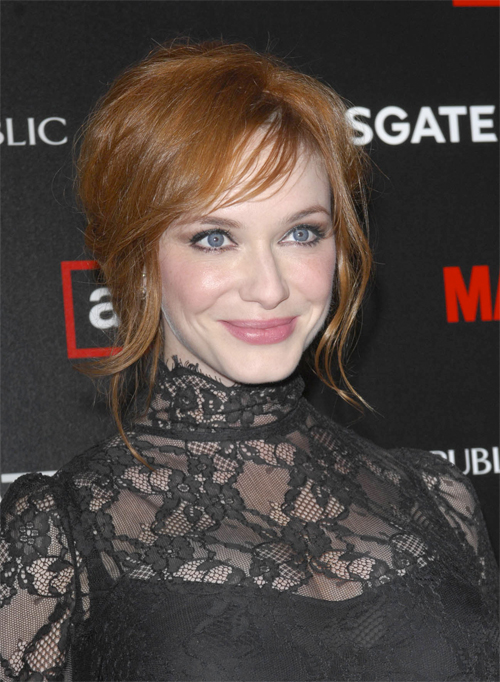 "Christina's sultry Dolce & Gabbana dress inspired a softer version of the "La Dolce Vita" makeup look. We kept it modern by using Bangkok Pure Matte Lipstick, which is a soft matte rose color for her lips," says Vanessa Scali.
Christina Hendricks' makeup look was achieved using the following NARS products:
Dolce & Gabbana and Madonna introduce MDG: the new sunglasses collection personally designed by the pop star in collaboration with Domenico Dolce and Stefano Gabbana.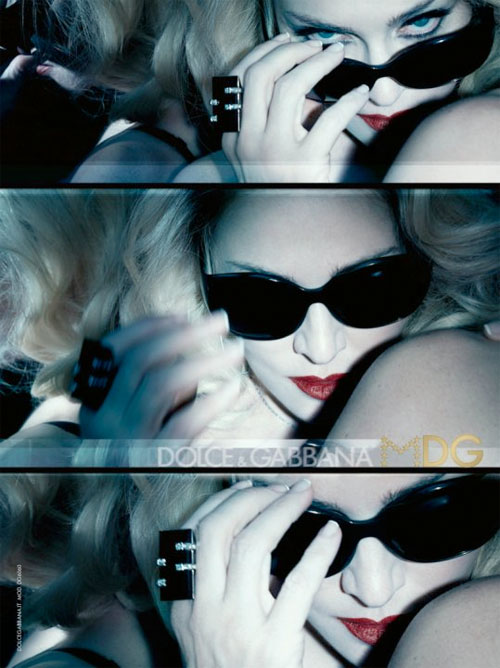 Disney Family.com and Teri Hatcher will be launching GetHatched "A Chick's Guide to Life" on Monday, May 10th, 2010! The site will kick-off at an exclusive event in New York City. They're asking fans (you) to choose which designer dress Teri should wear on the red carpet!

L to R: white Jay Mendel dress, red Dolce & Gabbana dress, blue Oscar de la Renta dress. Click image above to enlarge.
Log onto http://www.facebook.com/GetHatched and Tweet @GetHatchedNews your favorite – either the blue Oscar de la Renta; the red Dolce & Gabbana or the white Jay Mendel.
Plus-size supermodel Crystal Renn, appears twice in the upcoming V MAGAZINE (issue #64) which does not hit newsstands until March 2010.
Fresh off the heels of Crystal Renn's popular debut in V Magazine issue#63, she was shot by Amanda de Cadenet at the Smyth Hotel in Tribeca, New York City to commemorate V's previous controversial release – its first ever Size Issue, #63 in January. Styled by Yuki James, Renn wears a Agent Provocateur bra and Dolce & Gabbana briefs.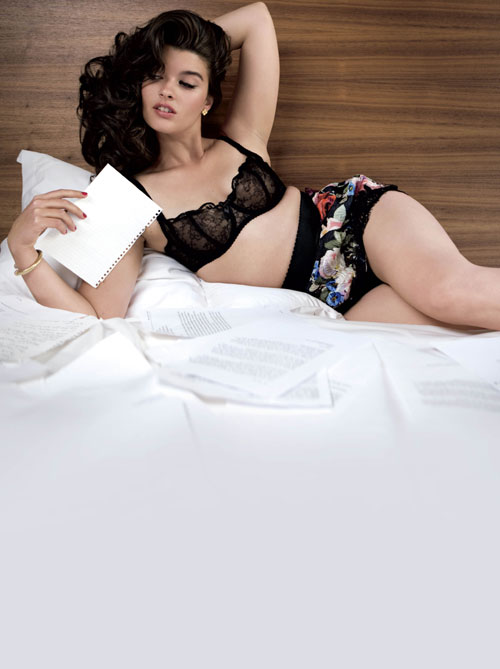 Photo credit: Amanda de Cadenet for V Magazine
Wow Factor: Britney Spears wore a Dolce & Gabbana black body suite under a lacey dress to the 2010 Grammys. The Look: very rock and roll! However, Britney's hair and makeup looked soft compare to her statement outfit. Do you love?